When Maradona threatened to destroy the trophy room of Barcelona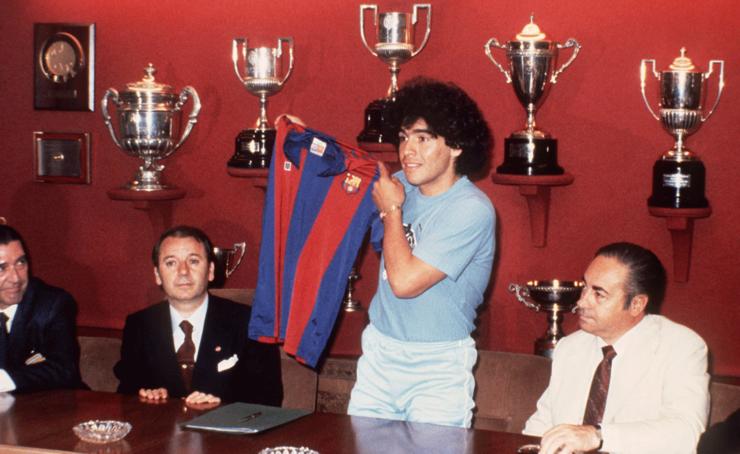 Stage Diego Armando Maradona at Barça It was most stormy. As we explained in detail in another article, the signing of Argentine represented a record as the club paid FC Barcelona 1.200 million pesetas (some 7,2 millions of euros) of the time. But nevertheless, They were not many Barcelona trophies in the two years' El Pelusa' He belonged to the discipline blaugrana.
Precisely trophies Barcelona They are the protagonists of this story. The 31 May 1983 German footballer Paul Breitner announced the conclusion of a final withdrawal match football. This meeting would dispute his club back then, the Bayern de Munich, against a team made up of big stars and friends Footballer. Guests included two names: Maradona Y Schuster.
The two players belonged at that time to Barça and they asked his club to move to Germany to play the game. But nevertheless, the board culé, led by President Josep Lluís Nuñez, flatly he refused. The reason was none other than the fact that Barca should contest the final of the Copa del Rey against him Real Madrid 4 days after that exhibition match to be held in Munich Olympic.
MARADONA passport
Maradona he asked his representative Jorge Cyterszpiller to go to pick up your passport to the club offices (at that time it was constumbre that clubs had this document his players for any journey). But nevertheless, the FC Barcelona he began to long with several excuses for not handing.
It was then that Maradona Y Schuster (almost nothing) They appeared at the Camp Nou To apply for a passport to president Nuñez. There were received by the Vice President Nicolau Casaus who told them that the chief executive could not receive them. According to account 'El Pelusa' in his book I am Diego, the tension was increasing and the player threatened to break trophies FC Barcelona who were there exposed: "If 5 minutes do not give me the passport I will begin to break these cute trophies, They are glass, against the floor".
The good thing is that Schuster, his partner in this venture, Diego far from calm encouraged him to carry out his threat. Finally, President's refusal to receive them, a Teresa Herrera trophy (of considerable size and weighing approximately 15 kilos) fell to the ground. The approximate value of this cup is 20 million pesetas (some 120.000 euros).
Finally Maradona he got his way and received his passport. curiously, neither he nor Schuster They ended up attending the party Paul Breitner and yes they played without any problems Cup final against Real Madrid what, by the way, They won by 2 goals 1. The trophy room Barcelona gained weight a little more thanks to this victory although one of them was a little depleted and had to be repaired. Things Diego.