"Hopefully the win Tenerife 20-0 the Canary Islands Derby"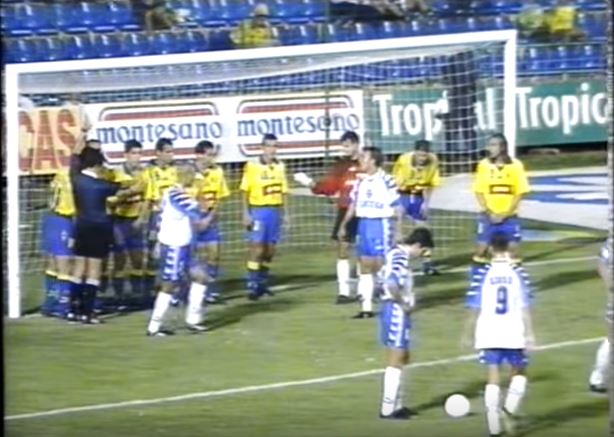 The canary derby It is one of those who live with more passion of Spanish football. But nevertheless, although it has been proven many times in both League and Cup King, It occurred only season in First Division. It was in the campaign 2001-2002 and both teams finished down.
One of the most memorable was the one that took place in the season 1997-1998 in which the two teams faced off in the second round of the Cup King. At that time the CD Tenerife He militated in First Division and came to live the best years in its history with two appearances in the UEFA Cup and becoming world He is known for having deprived the Real Madrid two leagues on the last day.
Meanwhile, the UD Las Palmas He is trying to recover the site that had lost in Spanish football. The yellow set militated in Second Division but had been reinforced with major players to try to win promotion. Manuel Pablo, Paqui, Socorro, Orlando, Sanways and above all Turu Flores (for which they had paid 500 million pesetas) They were part of that template.
CD Tenerife FAVORITE
The favorite to go round was the Tenerife but the whole chaired by Javier Pérez It should no longer be trusted to just two years previously a UD Las Palmas Second B managed to eliminate the team coached at the time by Jorge Valdano.
Precisely President tinerfeño (who died in 2004) became a protagonist incendiary statements made once knew would canary derby in the cup competition. The chief executive of the Tenerife without thinking twice said: "hopefully we win 20-0 derby".
The result, far from being as clear to the First Division team, He threw up a new elimination of the Tenerife at the hands of his arch rival. In the first leg Las Palmas He achieved a victory 3-2 in Insular (goals Turu Flores Y Merino twice for yellow and Kodro Y Alexis Suarez for tinerfeños) and in turn he kept the advantage achieving a 2-2 (Turu Flores relief and for visitors and Kodro and Andre Luiz for local) which it was insufficient for that Tenerife had players like Ballesteros, Vivar Dorado, Pinilla or Mackaay itself in its ranks.