Canizares spectacular debut with the Spanish selection
Santiago Canizares It has been one of the best goalkeepers in history Spanish League. Castile, Elche, Merida, Celta Vigo, Real Madrid Y Valencia They were the clubs where he developed his career as well as Spanish selection. Just today we remember the day when the goalkeeper Puertollano debuted with 'La Roja'.
DENMARK-SPAIN
That 17 November 1993 at Ramon Sanchez Pizjuan, Spain faced Denmark in a match vital for combined led by Javier Clemente. The Spaniards played for classification World Cup USA '94 and to guarantee that classification should win.
The rival was not easy. Denmark, Group leader, it was the European champions and the Laudrup brothers had in their ranks. As if things were not complicated, Zubizarreta, Spanish goalkeeper holder, He gave ball to Michael Laudrup over the area the minute 10 and he was forced to shoot it down to avoid the Danish goal. The referee, rightly, I cast out.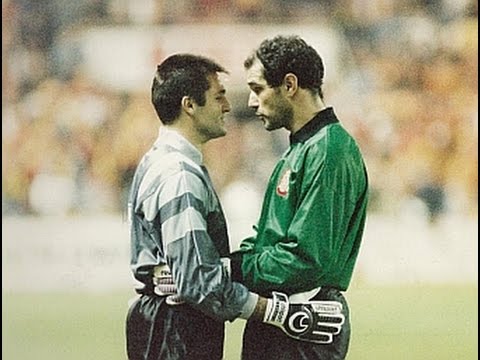 Canizares DEBUT
It came the opportunity to Santi Cañizares, Substitute goalkeeper score at that time belonged to Celta Vigo in which it was undisputed starter. At 23 years, 'Cañete' had before it a major challenge not only overcame it emerged as the great figure of the encounter stopping everything that came the goal that was much.
Figure Cañizares It was larger as the game wore on but still lacked the icing, the Spanish goal. It was Fernando Hierro the exit of a corner where the bottom header of the Danish network carrying delirium their way Pizjuán.
From there, Spain was dedicated to protecting the goal that took the lead and managed, especially thanks to the display Cañizares leaving no stops are great merit in the Nordic strikers who did not know how to overcome it. The brash and tranquility of that young 23 years was such that many realized we were facing a doorman who would make history.
At the end of that season came his return to Real Madrid where it remained for 4 seasons but did not quite win the starting job indisputably as if achieved in the Valencia where he became the best goalkeeper in history Mestalla club accumulating successes and titles during 10 campaigns that defended the Valencia goal.