"Reggi's goal has been scored"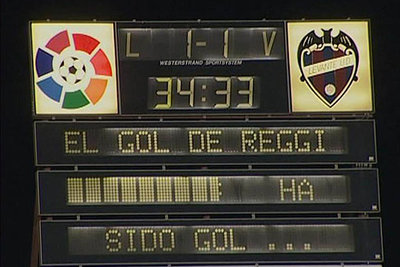 As we say in many articles, There are things that happened relatively recently and, but nevertheless, would be unthinkable today. Today we will discuss 'Reggi's goal', in reality, and was shot, nor was Reggi.
It happened in the season 2004-2005, in a match that pitted the Levante y al Albacete corresponding to the day 16 First Division, a 18 from December to 2004.
Let's put ourselves in situation. The party marched 1-1 in a direct duel between two teams whose goal was to stay. Gaspar had advanced to the La Mancha team in the minute 30 Y Snakes he had set the tables for the granotas shortly before the break.
REGGI'S GOAL… WAS FROM HARTE
It was the minute 53 party when Harte (and not Reggi) He headed a ball that the goalkeeper Gaspercic stopped with, at least, his feet inside the goal line and he jumped forward staying with the ball on the ground and looking askance at the lineman and the referee.
The players of the Levante and the granota fans claimed that the ball had completely crossed the line and that it was therefore a goal, but the referee, Mejía Dávila, did not concede both and the game continued. But nevertheless, 'The anecdote' some came from the party 20 minutes later when the electronic scoreboard of the Valencia (which was already replaced a few years ago) warned fans with a phrase that would go down to posterity "Reggi's goal has been scored".
From there, the granota fans started screaming "it was a goal, it was a goal". Unheard. To top, so much Bernd Schuster, coach Levante by then, like his second, Manolo Ruiz, they were sent off for protesting to the referee that, said passage is, did not have a good performance, much less.
At the end of the match, like is logic, one of the most recurring questions was knowing who and why had written that message on the stadium scoreboard. The club was quick to show their surprise "We don't know who could write something like that, if an employee of the club or the advertising company, but it is something that is out of place. We have opened an investigation to find out who is responsible". The granota spokesman assured Manuel Vinaixa.
The Catalan club was exposed to a harsh sanction by the Anti-Violence Committee but, Finally, the thing came to nothing and still today, among the oldest veterans, Gi Reggi's goal' still very present.