When Hercules CF avoided relegation winning at the Bernabeu
It was one of the most exciting league finals in terms of the fight for permanence in the First Division in memory.. That last day of the season 1984-1985 arrived with two teams already descended (Elche Y Murcia) but with four others who had to risk everything in the last game: Málaga, Real Betis, hércules CF Y Real Valladolid. All added 28 points except the Betic set that had 29.
Fate wanted Málaga Y Betis they will face in a direct duel in The Rose Garden. Both began the day outside the descent with 28 Y 29 points respectively. Meanwhile, the hércules CF, that started in descending positions, visited neither more nor less than the Santiago Bernabeu to face Real Madrid Meanwhile he Valladolid visited the Sanchez Pizjuan to play against him Sevilla that nothing was played.
THE POSSIBLE TIE AGREED BETWEEN MÁLAGA AND BETIS
This is when the dance of rumors and suspicions began. Some say Málaga Y Betis agreed to a tie that would be worth both as long as the Hercules will not win at Real Madrid in his stadium. Others suspected that the Sevilla he would not put up much resistance in his match against Valladolid to try to descend to the green and white set.
But nevertheless, the big surprise (and subsequent suspicion) occurred in the Bernabéu where he Real Madrid, that nothing was played anymore since he occupied a very poor fifth place, he was defeated by the Hercules by Mario Alberto Kempes by 0-1 with a historic goal from Sanabria. This Herculaneum victory caused the tie (who knows if agreed or not) between Málaga Y Betis the descent will cost the Malaguistas since the Valladolid He also won in Seville for 0-2 as expected.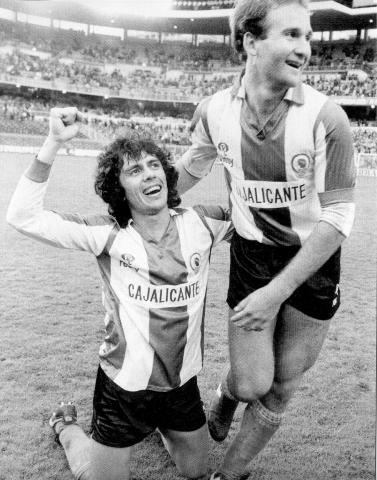 Legend has it that his own Juanito, mythical soccer player Real Madrid and natural from Fuengirola, He was enraged with his wardrobe mates after the defeat against him Hercules since the team of their land descended (he couldn't play that last game). Two seasons after '7' meringue signed by him Málaga to try to help the team to ascend to the First Division again, something that he achieved and also managed to leave it in the highest category.