Maradona: "If I'm the best player in the world? One is better than me, plays in Cádiz"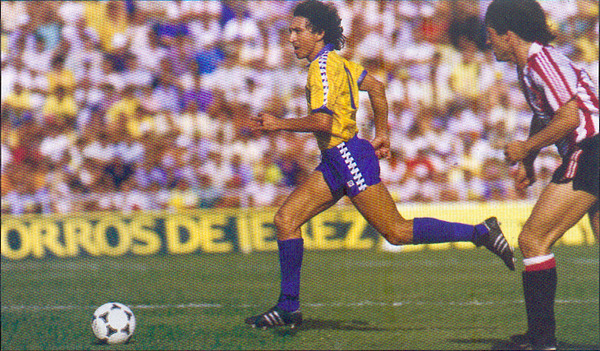 Diego Armando Maradona is, for many, The best player in the world. What is certain is that it was in the 80 when he lived his best moments. Precisely, in one of the interviews he gave the Argentine star had to answer the eternal question and answer passed into history.
The year 1984 Y Diego Armando Maradona It was at that time player FC Barcelona. Shortly after he established himself as the best player of his time making the World Cup in Mexico '86 and proclaiming league champion twice Napoli. But that day 1984 the 10' It was sincere: "What if I'm the best in the world? One is better than me, plays in Cádiz".
MARADONA AND MAGIC IN THE BARÇA
With this answer, Maradona made clear reference to Magico Gonzalez. El Salvador was one of the great innate talent that has given football over the years but never reached their full potential. His career evolved into 'his' Cádiz a brief spell Real Valladolid, where he played one season, and one even shorter by the FC Barcelona where precisely it coincided with Maradona.
It was that same year 1984 when the Spanish players FC Barcelona they left to play Euro France. Barca had signed commitments that summer and one of his reinforcements (with the advice and consent of Maradona) It was precisely the Magical who traveled with the expedition Barca where he played a game in New York.
But nevertheless, where the Salvadoran felt good crack was in the Tacita de Plata and soon returned to Cádiz to continue making enjoy the Cadiz fans with his passes, goals, cuts and impossible moves that left everyone speechless. With the yellow jersey he played more than 200 official games scoring 60 goals. We do not know if it was the best, but surely it could have been.