The World Cup Italy 90, the first video game of a World Cup
With the arrival of the decade of the 90 and the corresponding World Cup, The first soccer video games associated with the beautiful game also arrived. This was the case of World Cup Italia 90, the game that Sega released for its console Mega Drive and that so many hours and hours of play gave.
The World Cup Italy 90, the first Sega Mega Drive soccer game
If you spent your childhood or adolescence during the years 90, surely you will remember the console of 16 bits that released the Sega company. If you are also a soccer fan, sure this World Cup Italia 90 it was the first game you hit. A game featuring 14 of the teams participating in the World Italy 90 but with a nuance, the names of the players were not real, at least in its European edition. Another detail was that they changed some of the participating teams, by others with more cache but that had not classified in the appointment.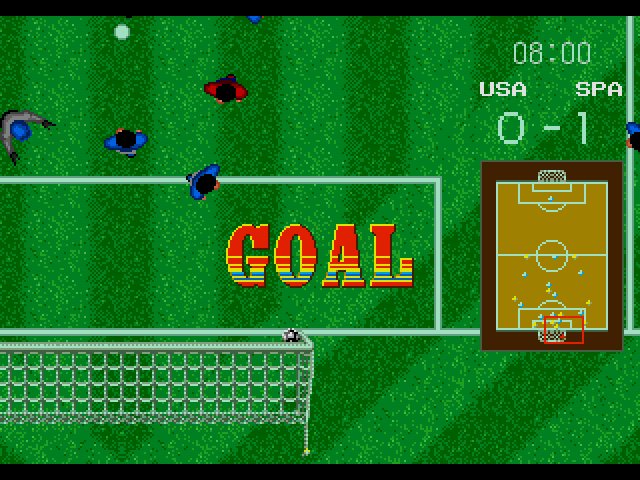 These teams attended that World Cup: Federal Germany, Argentina, Austria, Belgium, Brazil, Cameroon, Czechoslovakia, Colombia, South Korea, Costa Rica, Egypt, United Arab Emirates, Scotland, Spain, U.S, England, Ireland, Italy, Netherlands, Romania, Sweden, Soviet Union, Uruguay of Yugoslavia.
But when the game came out commercially, the Austrian teams, Cameroon, Czechoslovakia, Colombia, Costa Rica, Egypt, United Arab Emirates, Ireland, Romania and Sweden were eliminated from the game and replaced by others who had participated in the World Cup Mexico 1986 like Algeria, China, Denmark, France, Hungary, Japan, Morocco, Mexico, Peru and Poland. Let's go that in the video game they mixed both world.
how was the game?
The menu gave you several options., one to play a friendly match and the other, play the World Cup with any of the available teams. The game was seen from above, so only the heads of the players and the color of the jerseys of each team were visible. The games lasted about 10 minutes so if you played all the games until you won the World Cup, could you throw 2 hours almost and without being able to record. What were the games of that time like?.
The difficulty of the game could not be adjusted, so if you took a weaker selection, it was quite complicated. Some of the tricks he had was the side center and the cross header, but it was within the reach of those who already had a few games on them. Today if you don't keep your Mega Drive, you can find this game in some emulator and remember how you were happy with now an archaic football game.