Villarreal tab to Palermo for 1.200 million pesetas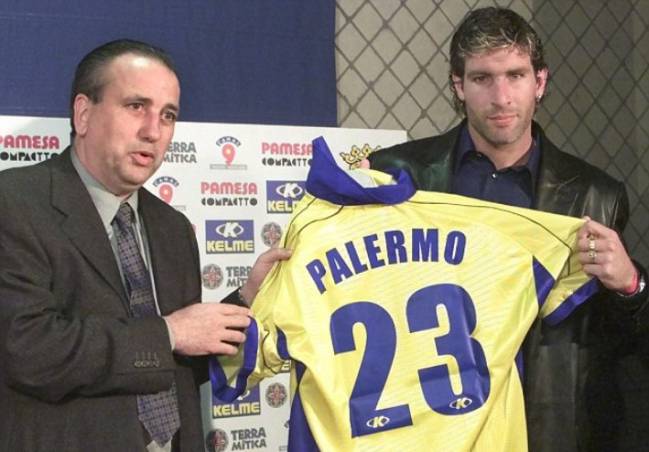 "¿Palermo Villarreal? I do not fuck!" Those were the words of Diego Armando Maradona, the great figure of Argentine football and a reference in Boca Juniors to learn the Palermo signing by Villarreal.
That 13 of January of 2001, the Yellow Submarine, who just he had two seasons in the top flight at the time, it became one of the leading figures worldwide. Not in vain, Argentine striker had been the great executioner was very little of Real Madrid at the end of the Intercontinental Cup Boca beat whites with two goals from 'El Loco'.
The 1.200 million pesetas (some 7 millions of euros) which paid the organization presided over by Fernando Roig They amounted only to 50% of the player's rights. The other 50% still he belonged to the Argentine club in the event of a future transfer. In the same pack Palermo He came Gustavo Barros Schelotto, both they joined Diego Cagna Y Rodolfo Arruabarrena, who had reached the castellonense entity a year earlier. You could say that we were facing a very twinned with Boca Villarreal, not only because of the colors of their shirts.
Stage Palermo in the Spanish Liga left much to be desired, both Villarreal and after the Real Betis Y Alaves. Among the three teams, striker played a total of 106 official games scoring only 25 goals. Surely, the key to its performance is found at the start of his second season as a player yellow.
PALERMO AND FALL OF THE WALL
The Argentine striker had started the season 2001-2002 with 3 goals in 5 parties and visited the court of Levante UD, Second Division team, to play a Cup match. scoring, the player approached the background to celebrate with a group of fans on both Villarreal Y the wall gave way, falling on Martin's leg and causing him serious injury that made him miss almost the remainder of league.
At Real Betis and the Alaves also we saw the Palermo who he had dazzled in Argentina so the player returned to his native country and the team that had triumphed where he played 7 years at a high level achieving important titles in his second spell as player Boca: Liberators cup (2007), Tournaments two openings (2005 Y 2008), one Torneo Clausura (2006), two cups Sudamericanas (2004 Y 2005) and two Recopa Sudamericana (2006-2008). Titles that joined the Intercontinental Cup and Copa Libertadores of the year 2000 in its first stage.