Teams that played in the First Division and perhaps not remember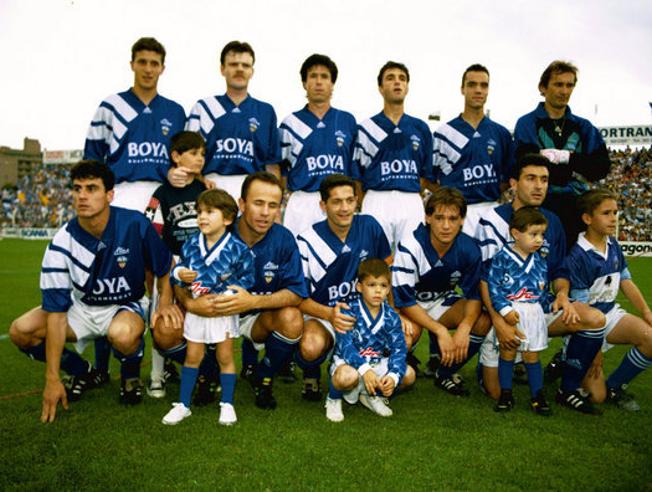 A total of 63 teams have played in the First division Spanish throughout history. However there are teams who may not know or do not remember and have also played in the top flight of Spanish football.
Cultural y Deportiva Leonesa
The club returned to Second in the 2017-2018 after 42 years. He played one season First division. It was in the 1955-1956 in which he fell after being ranked second to last 14 points ahead of bottom club Hercules was with 13. Both were quite far from antepenúltimo, Alaves, which achieved 24 points.
ATHLETIC CLUB TETUÁN
The Atlético Tetuán It is also one of the teams that had a fleeting passage by the First division. The club won promotion in season 1950-1951, when northern Morocco was Spanish protectorate, being champion of Second Division. His only involvement was in top flight next season, 1951-1952, in which was bottom club with 19 points.
CD CONDAL
Another team that had a testimonial participation by the maximum Spanish category was CD Condal. He won promotion in 1956 with the name of sports section Industrial Spain but changed its name to play in the First Division that year. During most of its history was a subsidiary of the FC Barcelona until 1970 merges with Atletico Catalunya and both form the FC Barcelona B. His only season in first and CD Condal, colista ends with 22 points, a single point of the penultimate Real Jaén.
CD XEREZ
Much more recent in time is the presence of CD Xerez in First division. The azulón set was present in the 2009-2010, in which he finished with bottom club 34 points, yes, just 3 points of salvation. Some prominent players that year were Fabian Orellana and especially Mario Bermejo, author 12 goals that did little to achieve permanence.
C.E. EUROPE
The CE Europa, is all a history of our football. Founded in 1907 in the Barrio de Gracia (Barcelona) He was one of the 10 Founders League clubs. He played the first three editions of the national championship (1928-1929; 1929-1930 Y 1930-1931). further, he played the Cup final against Athletic Club in season 1922-1923. That same season managed to become champion Catalunya Championship. He has been champion of the Copa de Catalunya three times (1997, 1998 Y 2015).
EXTREMADURA CF
First two seasons he managed to play Extremadura CF. Almendralejo team had a first season 1996-1997 very complicated in which a disastrous first lap prevented him from achieving permanency even though it had a run-down with more than good 44 points 42 matches (It was the league 22 teams). His first coach in the top flight was Josu Ortuondo and some of its most prominent players were Felix Carbayo, Pedro Jose, Tough, Mono Montoya and Walter Silvani among others. The following year in Second Division, again winning promotion with Rafa Benitez on the bench. But nevertheless, drops back down in the 98-99 despite being out of the relegation zone in the day 37. Finally he finished in positions of promotion and relegation Vallecano Ray I beat Extremadura in the knockout round.
CP MÉRIDA
The Merida Extremadura was the first team to sneak into First Division. Hand Sergio Kresic, the black and whites won promotion season 1994-1995. They came many new players to the template as Pirri or Quique Martin, but they failed to stay. A new rise, this time with Jorge D'Alessandro on the bench, a year later would. outstanding players in this new estapa were Canabal (who signed for Real Madrid a year later) and the Mono Montoya, from the Extremadura and veterans like Pablo Alfaro, Juan Sabas No Radchenko. further, young hopefuls who came later would have a long history in Spain as Biagini or Leo Franco. Nonetheless, the emeritense whole fell back to the silver division being penultimate classified.
UE Lleida
Another team that stuck his head in the top flight of Spanish football was the UE Lleida. The ilerdenses achieved two promotions. The first of them, in 1949-1950, surprised all and sundry to be achieved despite being a newly promoted to Second sole purpose of which was the permanence. His first season was pretty grim down as bottom club. Much more recent is the second ascent with Mané coaching. His second season in the First Division was the 1993-1994 and equipment fell again. But nevertheless, He had the honor of achieving two victories sounded. The first in the Camp Nou against Barça fear 0-1 and the second against Real Madrid at the Camp d'Esports by 2-1, with the famous brawl Benito Floro the meringues players at half-time.