Socrates: "I would die a Sunday and the champion Corinthians"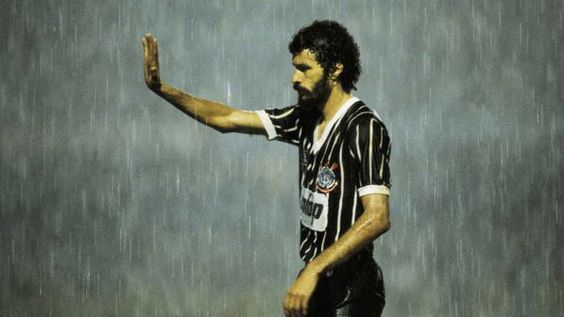 Today in FUTBOLRETRO.ES we dedicate some lines to Socrates, a different player, which it became a phenomenon and an idol for the fans of Corinthians and all Brazil.
to get started, Socrates from an early age he combined his medical studies with football, Unusually for the players of his era even in a country like Brazil.
He made his professional debut in 1974 with the Botafogo and in 1978 he joined the team that would be his life, the Corinthians. In the latter he became a legend after dispute 298 games and scoring 172 goals (although not forward).
SOCRATES, Brazil captain
Of course, He began to gain a foothold in the Brazilian national team and became captain and authentic icon 'canarinha'. Its privileged prominent physicist and his beard so characteristic made him unmistakable. With the 'verdeamarela' disputed 60 games and scored 22 goals.
Socrates He was present in two world, that of Spain '82 and the Mexico '86, and two editions of the Copa America in 1979 Y 1983. curiously, He did not obtain any title with his selection but attractive and offensive play Brazil It was recognized worldwide.
The player always was concerned and committed to the social situation. Very characteristics were his ribbons in her hair with protest messages of all kinds. further, It was one of the drivers of 'Corinthians democracy' self-management pioneer movement in the sport of their country.
His unique football experience abroad was in Fiorentina where he played for one season. But nevertheless, Socrates He did not adapt to European football and return to his country to play teams like Flamengo and the Santos.
Even his death had a legendary touch. Socrates, in an interview in the year 1983 he claimed: "I would die a Sunday and the champion Corinthians". curiously, He died Sunday 4 from December to 2011. That same afternoon the club he loves was proclaimed league champion.