FA Cup 1923: White Horse Final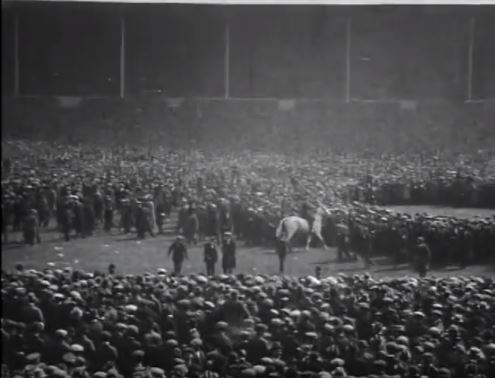 Today we bring you one of those stories that we love to tell. To remember her we must travel to England, specifically a year 1923 in which the first edition of the oldest competition in existence was held, the FA Cup.
That day all eyes looked to a point: The new Wembley stadium, newly opened, that was going to host the Cup final between the West Ham United and the Bolton Wanderers. Nobody wanted to miss the game and proof of this is that the public forecasts directly overflowed in a huge way.
The mythical London stadium had a capacity of approximately 125.000 people but that day they met more of 250.000 that doubled the capacity. In the videos of the time you can see the number of people who came to the vicinity of Wembley, well differentiated. West Ham fans they wore caps, those of Bolton hats. In these images we already observed that the most varied characters began to appear.
Like is logic, the large number of public that gathered at that final generated a multitude of problems for the police who had to ensure the safety of all these people. Many fans tired of waiting at the access doors began to jump the walls of Wembley. Not fitting in the stands, many invaded the playing field.
BOLTON FIRST FA CUP CHAMPION
The fact is that at three in the afternoon, when I had to start the game, the lawn was full of fans who made it impossible for the ball to start rolling. As published by Times everything changed with the arrival at the King George V. It was then that the hymn was sung God Save The King and the attitude of the people began to change and the playing field was clearing.
But the main protagonist who became a true myth and legend that day was a policeman named George Scorey who on the back of his name white horse Billie began to force the crowd to leave the grass.
Finally with almost 45 minutes late the first final in the history of the FA Cup could be played. The Bolton He took the victory by becoming the first champion of the tournament by winning 2-0 with goals from David Jack Y Jack Smith that went down in history.