Why name, shirt and shield Sampdoria
The Sampdoria It is one of the most popular teams in old Italy. It is true that is not among the biggest teams in the Calcio as far as titles are concerned but neither can we say that has not tasted the sweetness of success. Not in vain has won 1 League, 4 Cups and one Super Cup in his country besides having Intertoto Cup Winners Cup and European level. The peak of its history was when they managed to win the Scudetto and play the final of the European Cup against FC Barcelona at Wembley in 1992.
But today we will focus on the origin of their main hallmarks, that is to say, your name, shirt and even his shield, that they go far and are the most interesting and mostly original.
THE Sampdoria, A HISTORY OF CALCIUM
Genoese set born in 1946 the result of the merger of two city teams: the Sampierdarenese and the Andrea Doria. Hence the name of the new club was created with the beginning of one of them, Samp and the end of the other, doria.
After resolving the issue of the name of the new club played to decide the colors of your shirt and here again they both wanted to keep them so he turned to take a Solomonic decision and unique clothing was created in the world. Thus red and one black and blue and white of the other are present. In the center of jersey It is also within the shield the cross of St George, symbol of Genoa.
Finally we have to focus on the shield of the Genoese entity is for many one of the most beautiful and original of the world. Besides the colors blue-black-white-red-white-blue fusion, we find the profile Giovanni Battista Gaulli, known as Baciccia, renowned baroque painter, that was from Genoa, with typical hat and smoking a pipe region.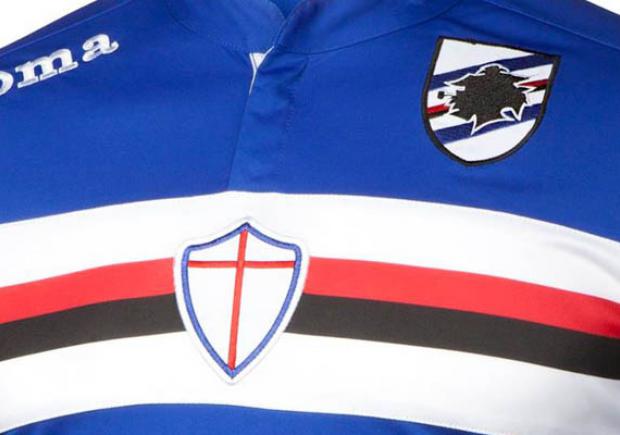 Throughout its history great players have worn the T-shirt Sampdoria as Roberto Mancini, Gianluca Vialli, Attilio Lombardo and Vincenzo Montella. Definitely a special club with some hallmarks that make it unique.