The Mexican who triumphed in Spain before "Hugol"
Hugo Sanchez, one of the best soccer players in Mexico of all history. A peculiar guy who emerged as an insatiable scorer and who was the true architect of opening the Spanish league as an ideal place for the development of footballers from the Aztec country.. But nevertheless, there were some players who came before him to Hispanic football, they just didn't have the chance to be so successful. In total, there were six who paved the way before Hugol and it is the first of them the most outstanding and of which we want to highlight its history. Jose Ramon Sauto.
Sauto arrived at Real Madrid in 1933 and went the first of the 41 Mexicans in total who have played in LaLiga. The last to arrive was José Juan Macías, after confirming his signing for Getafe, and who joins the other four footballers who were already part of the tournament in the season 2020/2021. The five will have good challenges ahead this year. The biggest is for Héctor Herrera, which must defend the title of champion of Atlético, "Which is not only the favorite in betting, but also for the vast majority of Spanish hobbies. Even those of the two greats seem to have accepted it ", comments Antonio Caro, editor of the specialized medium casasdeapuestas.bet. But the others will also have their particular battles.
Andrés Guarded and Diego Lainez at Betis will be joined by Néstor Araújo with Celta de Vigo in search of European competitions. European title that neither Hugo Sánchez nor José Manuel Sauto could achieve. Although they were very successful in Spain. After Sauto, five other geniuses such as Manuel Alonso Pria and Luis de la Fuente would arrive at Racing de Santander, Carlos Laviaga to Oviedo, Daniel Díaz to Celta and Jose Luis Borbolla to Deportivo, and all that in little more than 12 years. After a journey through a desert of more than 36 years without a single Mexican in Spain, it was Hugo's turn to 1981. And from there, the dribbling of players has been constant.
A very Spanish Aztec
Sauto was just a child when his family decided to emigrate to Spain, because things in Mexico were very unstable and dangerous due to the revolution that had started in 1910, two years before the birth of a little footballer. Due to the influence of the celebration of the first Olympic Games and later the first World Cup, José was very clear that he wanted to dedicate himself to football, Well, he was not bad at all for his age. After carrying out recruitment tests, he became part of the Empire FC de Madrid.
In that club he won the Spanish Amateur Championship up to two times, before he had the chance to complete his transfer to Real Madrid, which at that time was known as Madrid FC. He made his debut in a clash against Betis in the campaign 1933/1934, becoming runner-up in that first year. The steering wheel convinced the entity to continue playing, with another second place under his belt in 1935 and a cup. But nevertheless, the following year the Civil War came and there he had to render accounts.
José was already a man and unfortunately he was going to find what his family had decided to flee Mexico from. What happened is that in this journey towards top-level football, the aztec had decided enlist in the Spanish army and perform military service. His father had taught him the arts of hunting from a very young age and it turned out that the player had become an excellent marksman. So much so that he was required to be part of the insurgent side, although he would not be in the front line like other of his companions.
In the middle of the war his life was in real danger, because he was arrested by an anarchist group and imprisoned. And it was precisely football that saved him from execution, because the guard in his cell was a madridista, recognized him and allowed him to escape. After having to go into exile to the consulate to protect life and return again to battle in 1938, he finally ended up injured but in a position to continue playing.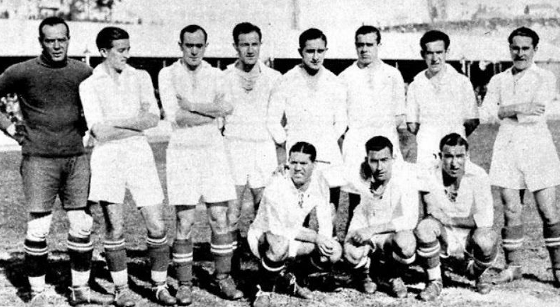 Already in the years 40 resumed his career and he continued playing until his retirement in 1944, having the opportunity to be one of the captains of the white club in his last two seasons. In their 11 years contributed a lot of leadership in 150 appearances with the merengue club with the two on his shirt. Although his retirement could not be better because in his last game Madrid beat Barcelona in Les Corts in a classic by 1-2.
José marked a before and after, because later more Mexicans would arrive at that time to the Spanish league. Exactly the same thing that Hugo Sánchez achieved, of which there is still a great memory and whose influence continues to be felt even today. We will see what Aztec football continues to contribute to Spanish football in the coming years, because what it has already contributed to date is not little. Great geniuses and figures.