The best Mexican footballers in history
As always we make such lists, there will be opinions for all tastes. Today we choose the best mexican soccer players history.
HUGO SANCHEZ
Hugo Sanchez is, definitely, one of the best mexican soccer players of all times. Born in 1958, began his soccer career in Pumas de la U.N.A.M. and soon he was summoned for the first time with the youth team of Mexico, thanks to his great scoring nose. Smell that not only would not lose, but he would refine on his arrival in Spain, first in the Atletico Madrid and then in the Real Madrid.
Among his many achievements we can name 5 trophies to the top scorer in the Spanish League, 5 consecutive leagues with Real Madrid Fifth Vulture, 2 Copas del Rey, 4 Supercopa of Spain, 1 UEFA and 1 Gold Cup with the Mexican team. 391 official goals for one of the best strikers in the history of Mexican and world soccer.
RAFA MÁRQUEZ
With 5 participations in the world, Rafa Márquez is the player, with his compatriot Antonio Carbajal, Buffon and Matthaus, who has represented his country the most times in the top competition at the national level. Central or pivot like few in history, strong, forceful and with a great ball output, that make him be remembered as one of the best Mexican soccer players in the entire history of soccer.
Atlas, Monaco, Barcelona, New York Red Bull, Hellas Verona and Leon, have been the clubs that have had the pleasure of having this legendary player. Has 4 Spanish leagues, 2 Champions, 1 Copa del Rey, 1 Club World Cup and 1 French league among others. With his selection he has achieved 1 Confederations Cup and 2 gold Cup.
WHITE CUAUHTÉMOC
He is known for being one of the top scorers in both America and the Mexican National Team. With 153 goals, is the second highest scorer of the América club and with 38, the third of the Mexican team, ahead of other myths like Hugo Sanchez. After 5 steps through America, his time at Valladolid, Necaxa, Puebla, Veracruz and Chicago Fire, withdrew leaving more than 190 goals scored and a total of 6 titles between clubs and national team.
JORGE CAMPOS
Goalkeeper with a forward soul, in fact, began his career as a center forward. Known, among other things for their extravagant colored t-shirts, Jorge Campos He is one of the soccer players best remembered by Mexican fans. Scored a total of 48 goals throughout his career, becoming the fourth highest scoring goalkeeper in football history. He played his entire career in Mexico and the United States, where he managed 3 Titles.
LUIS HERNÁNDEZ
Known as 'El Matador', Luis Hernandez He is one of the best strikers who have worn the shirt of the Mexican team. He played in a total of 9 mexican teams, plus one season at Boca Juniors and one more at Los Angeles Galaxy. Framework 144 with their clubs, that added to the 19 what did he do with Mexico, they make a great figure that makes it a legend of the tricolor.
ANTONIO CARBAJAL
Antonio Carbajal It is one of those 4 players who played 5 World Cups throughout his career. He was the first in history to achieve it and no one equaled his record until 32 years later, when he did it Matthaus. After 16 years in the Leon club, and after 48 matches with the Mexican national team, Carbajal hung up the gloves, although this is not entirely true, because he refused to use them because it seemed stupid, How can we read in an interview that he has granted.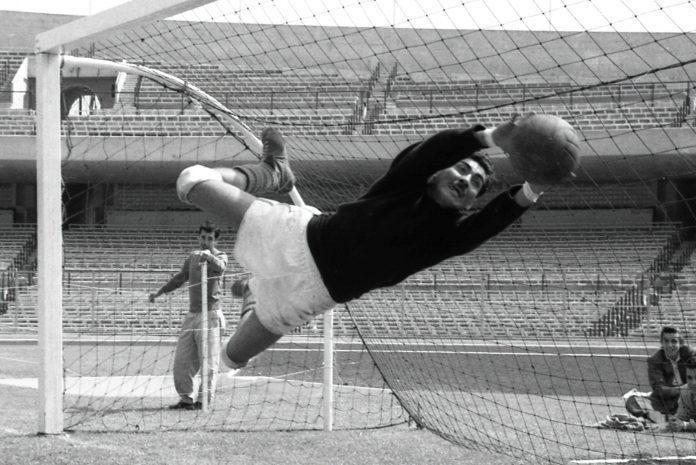 JARED BORGETTI
Es, after Chicharito Hernandez, the second top scorer in the history of the Mexican national team with 46 goals. His powerful header and good vision of the game, they made this forward, one of the most remembered by all Mexican fans. He practically made his career in Mexico, where he played in 10 different teams. He tried his luck one season in England, at Bolton, but his performance was not as expected and he went to play a season in Saudi Arabia to finally return to Mexico. In his record he has a Gold Cup with Mexico, in addition to several individual awards for top scorer in Mexico.
CHICHARITO HERNANDEZ
One of those who could not miss in this list of the best Mexican footballers in history. Not in vain, Chicharito is the top scorer of the Mexico national team and one of the most loved by his compatriots. A long professional career in numerous clubs, including Real Madrid, where he left a good memory despite playing few games.
Other Mexican soccer players that we do not want to forget in this article are Luis García, who wore the Atlético de Madrid shirt and other more recent ones like Carlos candle, Andrew Saved O Giovani Dos Santos.