The confrontation between Carmelo and Maradona in a Cádiz-Sevilla
The 21 March 1993 It was played in Ramón de Carranza Stadium a game that went down in history. And it was not for his rain of goals or for the spectacle of good football but for the confrontation between Carmelo and Maradona, two heavyweights in their respective teams.
That shock was loaded with tension. The Cádiz he was more than in need of points as he was second to last in the first position three points behind his predecessor, the CD Logrones. Meanwhile, the Sevilla, led on the bench by Carlos Bilardo, was looking for a victory to be placed in the European zone, primary objective of that season.
The game was not pretty. Little football, many kicks and more than a row. Like is logic, Maradona he took all the eyes of both the stands and his own rivals who left him neither in the sun nor in the shade. Of course, The fuzz he was not one of those who shrunk and faced more than one occasion with the defenders from Cádiz.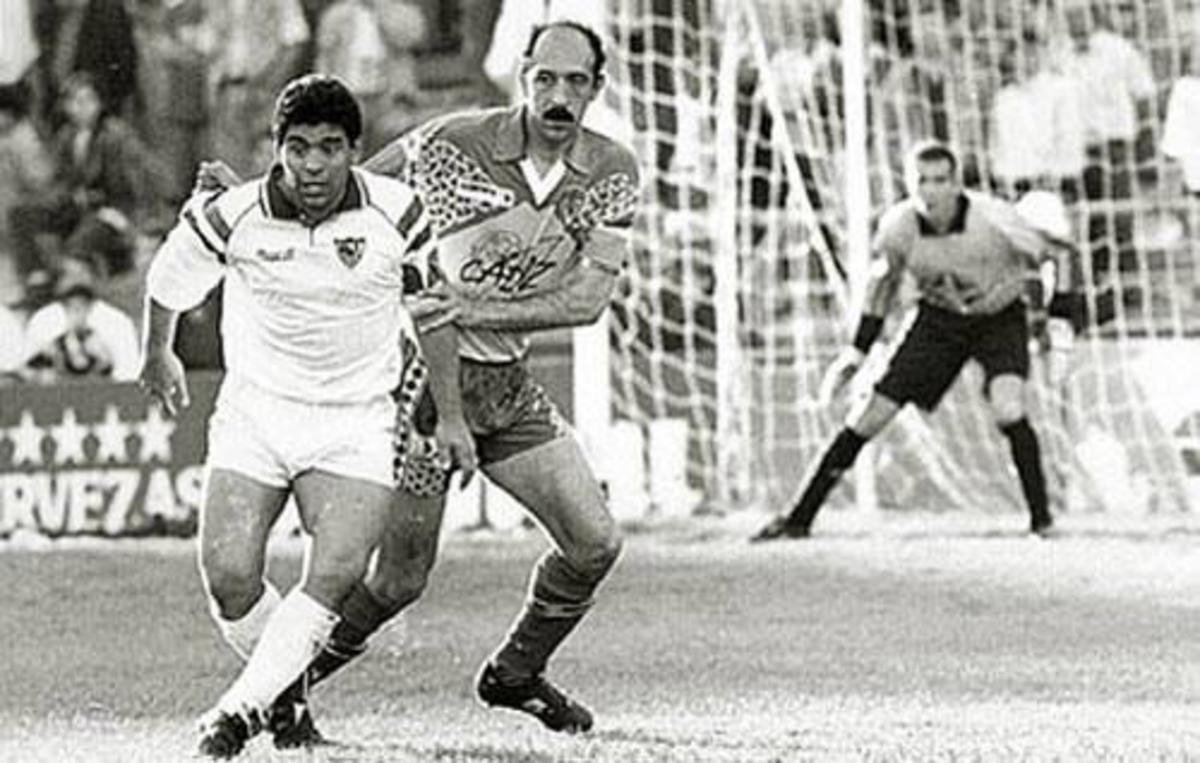 Lack of 10 minutes until the end of the match, an entry of Stimac, footballer Cádiz, about own Maradona Unleashed a spectacular tangana between players from both teams. It was such that even the coaches and bench members had more than words. In fact, law enforcement officers were forced to intervene.
Above all, the duel between Carmelo and Maradona. It goes without saying that the style of both footballers was very different but they were both very good at theirs. The 'Beckenbauer Bay' he explained in an interview for Deportes Cope his version of what happened that afternoon: "Diego had been all the game telling us about everything. Before the incident he had already had one with Stimac and was insulting us all the time and telling us everything and, Clear, in the end it ended up messing logically because I ended up exploding ".
Even so, the brave cadista defender is sorry for that event: "It was a shame because football is something else and something like that shouldn't have happened. Footballers are an example for many children so I apologized for that and I do it again. But those who came from the capital believed that they could overwhelm us and that could not be".
The final result from zero to zero did little to Cádiz Y Sevilla. Neither team met the goal set at the start of the season as the team from Cádiz descended to the Second Division and Sevilla remained on the brink of qualifying for the UEFA Cup. The ways of Carmelo and Maradona they separated at the end of that season but their confrontation still lives on in the memory of many fans.