Maradona heating in the Munich Olympic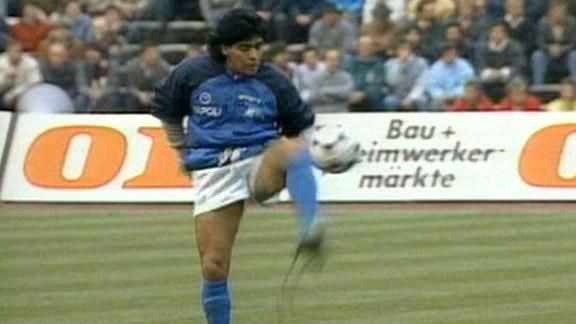 Everything he did on a pitch (and beyond) It was special even a simple training. today we remember Maradona heating at the Olympic stadium in Munich that made history.
The 19 April 1989 He arrived in the German city Napoli of Diego Armando Maradona with the serious intention of qualifying for the final of the UEFA Cup of that historic season 1988-1989.
Neapolitan whole had achieved a good result in the first leg by beating 2-0 and now he must do good in a stadium and against an impressive opponent. It is logical to address the meeting with tension and nerves but seeing warming Maradona you already done to the idea of ​​who he was.
The Argentine star made a display of juggling with the ball and danced to the rhythm of music the song 'Life is life' PA sounded in the house Bayern Munich. Far from appearing nervousness was more than noticeable that the star was totally relaxed.
Oblivious to the cameras showed he was one of the highlights of his career. Enjoying soccer and ball, with untied boots and with astonishing tranquility that still leaves us speechless.
The game ended with a tie to two goals that served the Naples to qualify for the final of that year's UEFA Cup beating that eventually overcome the Stuttgart with a global result 5-4. It was the first and only European title in club history.
In addition to that trophy, the Naples of Maradona It took two league titles, Cup and Italian Super Cup. Therefore, the 10' God remains a hobby club.