Five footballers who could replace Messi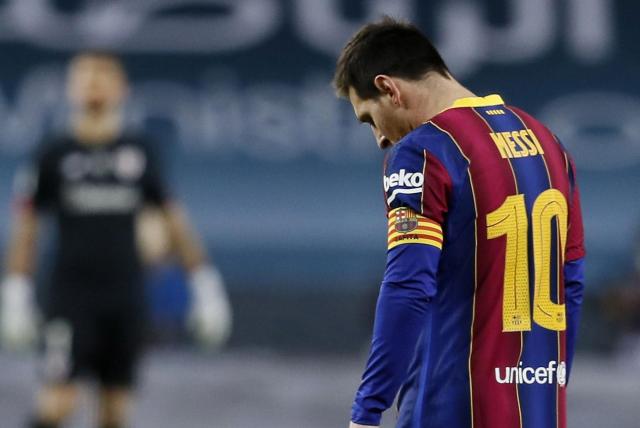 Messi's time is getting closer to its end. Lucky for football, there are many players who could take his place in the future. Here we mention five of them.
1.-Antoine Griezmann
Antoine Griezmann is one of the most striking young promises today for the signing of any team. This French player has been gaining a good reputation for several years. But it was at the World Cup 2018 when his figure gained international fame.
This was partly due to the fact that his country took the cup. Although also to their individual performance in attack positions. His lucidity on the field was so great that he was soon signed by Barcelona, in which he is playmaker.
Being in the same club as Messi, Griezmann undoubtedly has a lot of advantage over other star players. In fact, portals like Nation Sports They postulate him as the perfect replacement for Barça once the Argentine leaves.
2.-Ansu fati
Fati is a player somewhat less known than others that we will see in this list. But nevertheless, that does not mean that it is not at the same height. In his short time at Barcelona he has made decisive plays for his team.
And if that was not enough, this player has also been included in the Spanish team, which gives it even more merit. Ansu Fati has a similarity with Messi, besides being from the same club: the height. Although he is taller than the Argentine, still small in front of the center forwards.
But Fati has a huge advantage, and this is your age. With scarcely 18 years, It is evident that he still has a long history to achieve the feats accumulated by Messi. And the fact of being already in the Barça saves him a lot of time.
3.-Mbappé
Kylian Mbappé, unlike previous players, he is not in Barcelona, but at PSG. Although not for that reason is left behind. In fact, was part of the French team in the last World Cup, and shone as much as Griezmann.
This player has been recognized as a practically infallible aim. He is capable of scoring goals from a distance with the utmost precision. In the same way, it stands out for its auction and for having very sharp reflexes in all positions..
Mbappé also has the advantage of age. Has barely 22 years, and their level just keeps getting better and better. That is why and more that has impressed Xavi himself. He takes it as a possible replacement for Messi, as well mentioned by the portal La Pelotona.
4.-Neymar
Neymar is a special case. This player is probably the most famous of all the ones we will see today. He was next to Messi in Barcelona, and it could be said that he got quite close. Although that closeness did not prevent him from leaving for PSG.
It was at that club that Neymar showed all his abilities. While at Barça he was a bit overshadowed by Messi, at PSG he has managed to stand out on his own. This is how he has become a more complete and balanced player.
Neymar's skills make him a player you could bet on anywhere in the world. Safe Betting Sites. At the same time, make him the possible heir to the flea legacy.
5.-Philippe Coutinho
Again we meet a Barcelona player. Coutinho was in several other elite clubs, like Liverpool F. C. But it is in the Blaugrana club where he has really excelled.
Coutinho has been admired for his great ability when it comes to passing. He is a very complete player who also knows how to connect with his teammates on the field and take advantage of them in his plays. This star's dribbling is another of his most commendable skills..
Philippe Coutinho's performance has been such that even Pelé himself has praised him. According to the Brazilian legend, A special future awaits Coutinho full of achievements in football. Being also a member of the Brazilian team, has been able to get closer and learn from other figures.