Futre: "Atlético's fans are not the best in Spain. Is the best in the world"
For the team FUTBOLRETRO.ES it is a real honor to be able to interview one of the great stars of European football. Paulo Futre, Not only is he a true idol for the Atlético de Madrid fans, with which he raised two King's Cups, It also means a lot to all of us who knew football at the end of the 80 and early 90.
In 1987 You win the European Cup with Porto and are named Silver Ball behind Ruud Gullit. Do you think you deserved the Gold?
That year I was very important for the conquest of the Champions League with that historical FC Porto who defeated Bayern Munich in the Vienna final. I also played an important role in Atleti since my signing in the summer. In those months before the elections we beat Barça at the Camp Nou, Real Madrid 0-4 at the Bernabeu… Gullit was a phenomenon but was not among the favorites for the award. That season he had only won the Dutch League with PSV. But in summer he signed for Berlusconi's almighty AC Milan. I think even the meringues, that they hated me from that 0-4, they would have given the award to me. There was a lot of talk at the time how rare it was for the Dutch League champion to win the European Cup champion award.
How was the signing of Futre by Atlético? What did Jesús Gil say to convince him?
After winning the Champions, That summer I am not exaggerating when I say that he was the most desired player of the moment. There was practically an auction for me among the big sharks. I was almost done to go to Inter de Milan when Jesús Gil appeared on the scene breaking the bank and making an offer that, simply, could not refuse (salary, house with swimming pool, car…). Neither I nor anyone else in the world who grew up in poverty. further, it was an anomalous situation because he was not signing for a club but for a president. I was his electoral promise. I agreed to go with him, but when we landed in Madrid I demanded that he give me the car that he had promised me. That either he gave it to me right now or I was going to Portugal. I remember thinking: "It is not going to be that later I do not win the elections… at least I have a car and equipment I will not lack". We went to a high-end dealership and the only car available was… A yellow Porsche! I've never seen a yellow sports car, it seemed very strange to me. The great Pinto da Costa, president of Porto, Afraid that I would back out of the agreement for not liking the car, he told me: "Oh, Paulinho, What a handsome car! And this is how I ended up at the Jácara discotheque for an electoral claim and my love affair with the club of my life began.
Talking about Jesús Gil. What is your opinion of him as a person and as a manager of Atlético?
Our relationship transcended that of president-player: it was that of a father and son, With everything it implies. No matter how many wars we had, I loved him like a father and he loved me like a son. As a leader he lacked patience, I don't even know how many coaches I had, I think once we got to have 3 O 4 different coaches in the same season. I'm sorry that I didn't have the opportunity to have a coach with a stable project, we sure would have achieved great things.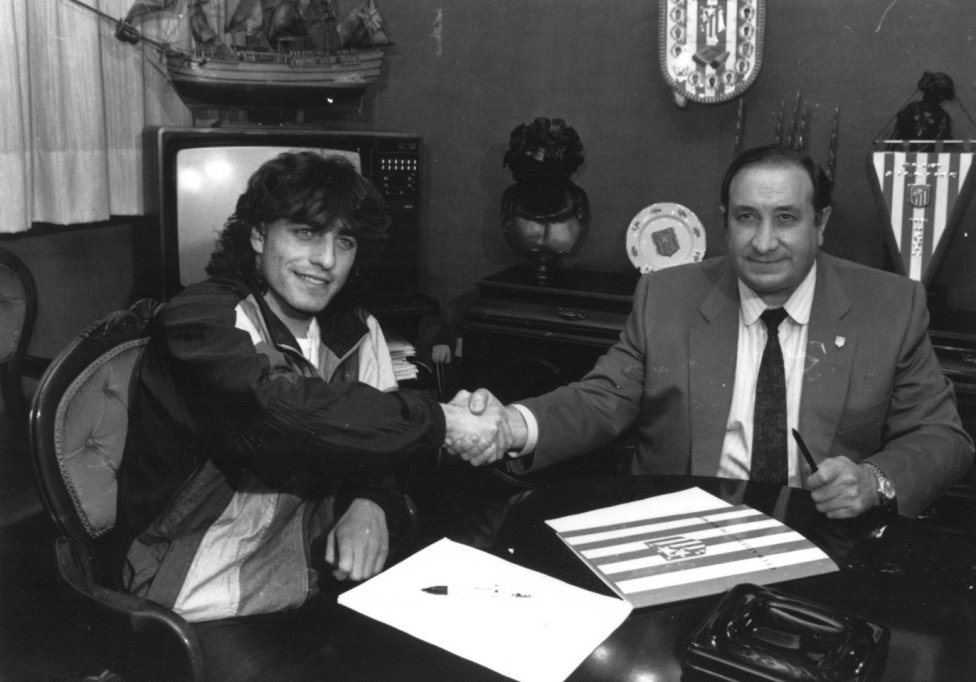 In 1992 wins the Copa del Rey with Atlético de Madrid with Luis Aragonés on the bench. What was Luis like as a coach and as a person?
If we asked the great world stars that Luis trained, I am sure that all of them will agree with me when stating that it was the best motivator they have known. It is an exaggeration to say that he was the best coach in history, but it is not to say that it was the best motivator. I could remind you of a thousand anecdotes about him, when I woke up at dawn to motivate myself for the games, as in the final of the Cup 92, or against Real Oviedo with the case of Gorriaran. Mentally he would get her to start playing the game long before jumping onto the field.
Now he seems to have a good relationship with Paco Buyo, but they became more than enemies. What do you remember of those games against him and against Real Madrid?
I have a very good relationship with my dear Paco Buyo and if you read these lines I send you a big hug. Life takes many turns. In his day the enmity was real, we couldn't see each other on or off the field. The thaw started long after the retreat, when we meet as commentators on a television. I have counted many times as, inspired by Rocky, I put a picture of him in the bathroom several days before a derby to get me started. It's hard for me to imagine today's players doing something like that.
What does it feel like to be the idol of such a loyal and passionate fans as Atlético de Madrid?
Many years have passed since I retired but the affection and love is still there, is incredible. They have always told me that I would have won more than one Ballon d'Or and many more titles if I had played for other teams. And it can be true. But I would not change it for the love that people still have for me. What makes me most excited is when I read on social networks kids who never saw me play "I would have loved to be born earlier so I could see you play". Phrases like that are priceless.
Do you think the Atlético de Madrid fans are the best in Spain?
No. I think it's the best in the world.
Who are the best players you have had as teammates and as rivals?
As teammates I coincided with God Maradona in the games of the "World Selection" that was organized by FIFA then. What a pity that they no longer organize! I remember once the attack trio was Maradona -Futre – Platini and Maradona – Van Basten – Futre. How much would that trio be worth today? Taking away those All-Star games, the best partner I had without a doubt was Rabah Madjer. The most complete and impressive player I have seen in all aspects. Regarding rival, I have it clear: Chendo. The rival I most admired. Era noble, Quick, with talent, intelligent. In an age of defenses "assassins", he was a gentleman. It was an honor to face him.
Do you think that football before was better than today?
I can't say it was better because times change and it's normal for us to idealize the past. But yes, it is inevitable to think that a lot of magic has been lost in favor of the show and the business. He has also gained many things, as the players are much more protected from injuries, the playing fields are well cared for, etc. The times change, right now we don't even have fans in the stands, there are stops to drink water, five changes. Unthinkable things. The times change. The good thing is that football will always be there.