David Vidal: "I keep teams down because they are the ones who will call me"
To talk of David Vidal it would take a book or even several. It is impossible to summarize in a single article all the wanderings, anecdotes, successes and failures of this particular coach we captivated many since we discovered back in the 90. His particular style, the way old-fashioned train, his strong character make it unique.
In his own words: "It is very hard to be a good player and a good coach. Normally a great player is very bad coach". Good, it must be said that David Vidal It was a pretty mediocre player. He got to play some games in the Second Division Sports and the Cádiz, club in which he would make debut as coach and city that captivated from the beginning.
David Vidal IN CADIZ CF
Cadiz was formed as a technician in the lower grades and came to take over the bench of the first team to late 80. There he met with the best player in the history of Cadiz set, Magico Gonzalez, something the Galician coach always takes care to remember: "I already coached the Magic".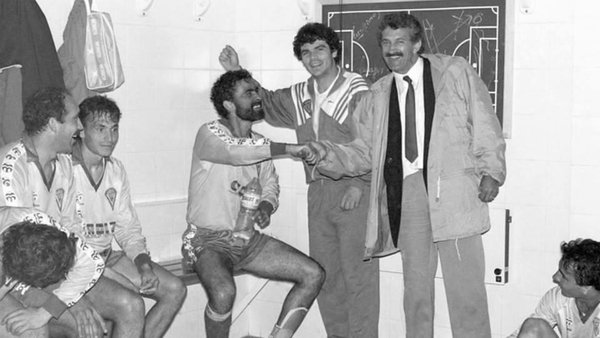 THE CD Logrones AND GAUNAS
Already in the early years of the 90 was the CD Logrones which hired him and where he got his best results in First Division. By then the whole riojano had several high-level players Abbey, Setién O pad first and Poyatos, Jose Ignacio or self oleg Salenko after.
Precisely at that time I had the opportunity to meet in Las Gaunas al Dream Team Johan Cruyff to which he managed to scrape a draw one after David Vidal ordain the gardener does not mow the lawn so that this great team had difficulties to move the ball, anecdote has some embarrassment Galician.
One year later, In the season 93-94, He took over the Vallecano Ray but could not avoid relegation to the Second Division. From there his career was falling and specializes in training equipment Second or Second B with trouble in qualifying. As he says: "I always follow the teams below, They are the ones who will surely call me".
TROTAMUNDOS OF BENCHES
Villarreal, Hercules, Compostela, Real Murcia, Las Palmas, Lleida, Elche, Albacete, Xerez, Guadalajara Y Lorca They have been many teams that have been agreed David Vidal to try to emerge out of situations or complicated, sometimes successfully and sometimes not.
Precisely the case of the lorquino whole was quite peculiar because when almost everyone was almost withdrawn Galician, He managed to ascend to the Murcian set to Second division. But nevertheless, the club decided not to renew the contract, something that has happened on more than one occasion.
Hero or Villain, It will fall better or worse but what is clear is that David Vidal not leave anyone indifferent. From here we remember with affection and who knows if soon can continue enlarging your resume in a team in trouble.