The first team to wear numbers at his jersey League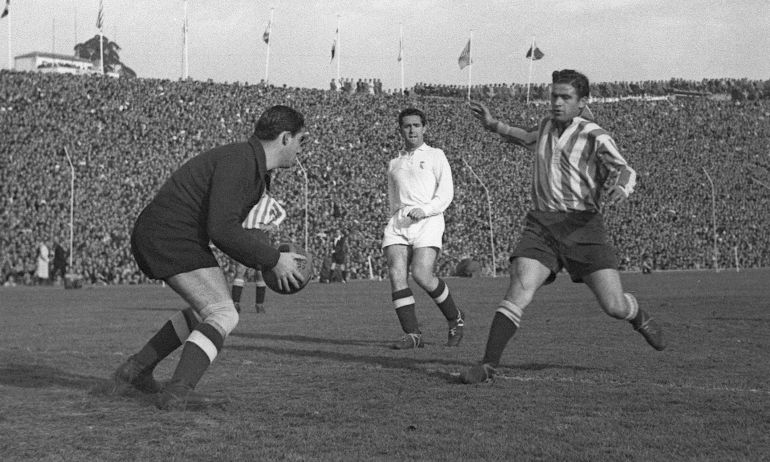 The season 1947-1948 It was historic for Real Madrid for various reasons and not all precisely positive. That campaign the white team, chaired by Santiago Bernabéu, premiere of the Chamartín Stadium, which subsequently acquire its name until today. further, finished in the worst position in its history, eleventh. In fact, achieved salvation in the last league match. And if that was not enough, was the pioneer club in introducing numbers on their shirts.
REAL MADRID DEFEATED IN THE METROPOLITANO
The 23 November 1947 altogether merengue visited the house of the eternal rival, the Atletico Madrid. That day the old man Metropolitan more than 70.000 viewers witnessed a scandalous win by the rojiblancos who endorsed a resounding 5-0 to Madrid. But that game, in addition to being remembered by the little hand received, It is remembered because it was the first in the history of the Spanish League in which a team played with numbers on the shirts and it was the white team, although it did not go very well.
That day the Madrid players Calleja, Clemente, Corona, Pont, Ortiz, Huete, Macala, Alonso, Pruden, Molowny Y Cabrera entered the history of Spanish football for being the first to wear numbers on their shirts but also for receiving one of the worst defeats in a derby in memory at the hands of Pérez, Valdivieso, Aparicio, Riera, Silva, Cuenca, Farias, Escudero, Fields, Vidal Y Juncosa, what were the 11 players that Atlético lined up. Precisely the last four were the authors of the 5 goals, Juncosa scoring twice.
This innovation was well received and was adopted as a mandatory standard the following season., the 1948-1949, in the rest of Spanish teams. The idea was acquired from the english league where bib numbers began to be used to identify players from 1928. But nevertheless, there are sources that indicate that numbers were already used in disputed matches in Australia in 1911.