When Barcelona dismantled Real Sociedad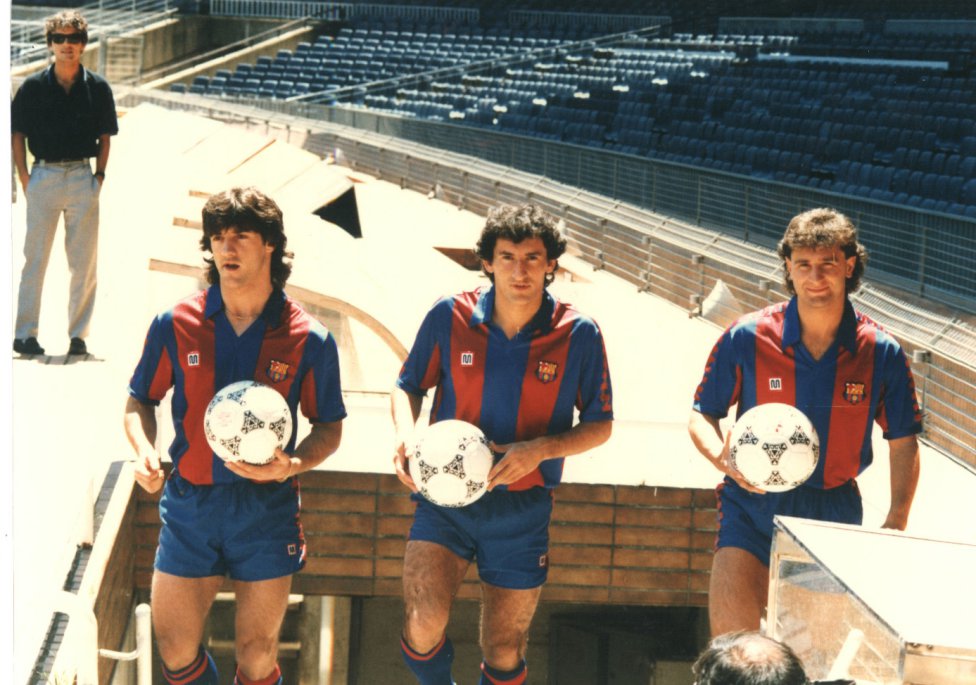 Throughout history there have been several players who have reached the FC Barcelona from the Real society. In the years 70 and in the early 80 arrived players like Artola, far O Perico Alonso. But nevertheless, Today we will focus on summer 1988 when there was a real txuri-urdin landing at the Camp Nou.
At the end of that season 1987-1988 the Real society He won the league runner-up. Meanwhile, the Barça He ended in a poor sixth place although he saved the season proclaiming Cup champion which allowed him to participate in the Recopa.
It was then that Johan Cruyff He arrived at FC Barcelona bench and set out to create a winning team, as well it would be. Of that Real society They came three pillars. Jose Mari Bakero, which he was authored 17 goals in that campaign 1987-1988 with donostiarra set plus Luis Maria Lopez Rekarte Y Txiki Beguiristain.
As a reward, FC Barcelona took control set services Andoni Goicoechea, end dexterous Osasuna, and he yielded two seasons to Real society.
The economic pillar of this great operation, as he published daily The country, it was of 600 million pesetas that would azulgranas coffers of the Basque. further, the Barça fertilizer 125 million to Osasuna to hire Goicoechea.
Jose Maria BAKERO
It was certainly a legendary player of both entities. He played 16 campaign in the top flight dishing 8 the Royal and many others at Barca.
He was a member of the legendary Real society who got two league titles in campaigns 1980-1981 Y 1981-1982 plus a Super Cup and Copa del Rey.
With the Catalans won 4 consecutive league the Dream Team Johan Cruyff and two Copas del Rey, four Super Cups Spain, the Champions League, two Cup Winners Cups and one European Super Cup.
Txiki Beguiristain
Like its companion Bakero, It was a very important player for Johan Cruyff at Dream Team. He was able to act both on the left wing or the right as long as a player attack. Once finished his contract at Barça he left the Deportivo La Coruna.
LOPEZ REKARTE
The defender Lopez Rekarte He came free after completing his contract with the donostiarras. It remained in the rows during blaugranas 3 seasons (he signed 4) and although he did not have a role as prominently as his colleagues was a major player. Later He comprised of the Super Dépor in which he played for 5 seasons at a high level.
DE A MEHO KODRO CLAUDIO BRAVO
After that summer of 1988 They spent a few years until another realistic player fichara by FC Barcelona. It was the front meho Kodro.
Bosnian managed to register as the fourth highest scorer in the history of the Royal Society between the years 1991 Y 1995 which helped him to sign for the whole Camp Nou but did not have much success in Barcelona.
Since the signing of the Balkan player passed 17 years until a new football player Real society fichara by culés. It was the Chilean goalkeeper Claudio Bravo.