Chilean Hugo Sanchez against CD Logrones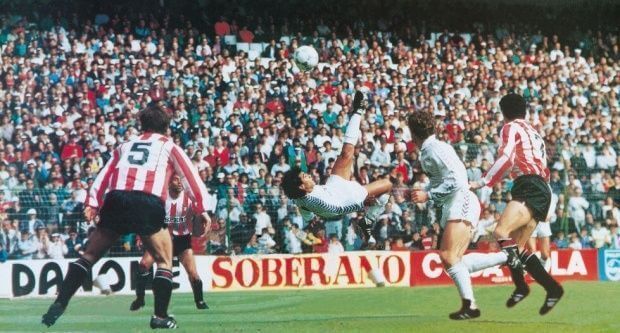 Hugo Sanchez He was one of the greatest scorers of 80 Y 90. Mexico was able to score goals in every possible way. But nevertheless, there was one that went down in history forever after a spectacular Chilean against CD Logrones at Santiago Bernabeu.
That day Real Madrid of 'La Quinta del Vulture', undisputed leader of the League, riojano received the whole area occupied by the low ranking of fighting to avoid relegation. It was a 10 April 1988 meringues and fans were unaware that they were going to see one of the best goals in the history of Spanish Liga. Not have to wait long because the minute 9 would the play of the game.
After a corner kick taken out by Míchel, the Atleti defense cleared the ball fell to the feet of Galician, This delayed the ball to the Madrid defense and finally the leather came to the left side where Martin Vazquez It took a good cross. This is where the fans could enjoy the Chilean of Hugo Sanchez madden made directly to the stand. white handkerchiefs and shouting ¡torero, torero! and an ovation that lasted several minutes until the point that the attacker had to greet the respectable from midfield.
The incredible record of Hugo Sánchez
that season 1987-1988 the Real Madrid was champion of League (in fact won 5 championships consecutively), his goalkeeper Buyo got the Zamora trophy at least thrashed and Hugo Sanchez He was crowned the scorer championship. Mexican and achieved its fourth consecutive (one in the Atletico Madrid and three in the Real Madrid). Not content with this, The 9' Madrid equalized in the campaign 1989-1990 the number of 38 Goals mythical Zarra. yes, Mexican pulverized a record that will hardly be surpassed by any other player in history, as we explained in another article.
He left the Spanish football (where he also played one season in Vallecano Ray) more than 400 goals scored. But nevertheless, Chilean of Hugo Sanchez against him Logroñés always have a special taste for plasticity, beauty and perfection in execution.