The Sweden of the USA World Cup 94, a spectacular generation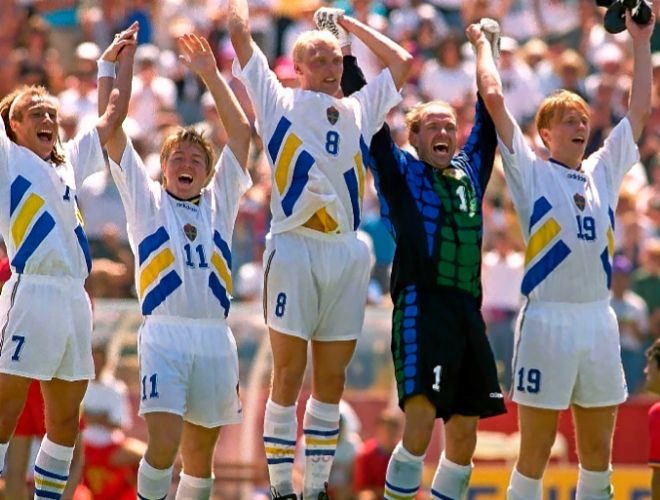 If soccer has something, it is its emotion, surprises and actors who at first seemed to have a supporting role, but that end up becoming real protagonists. This is the case of Sweden at the USA World Cup 94.
Definitely, the Swedes were the star attraction of that world Cup of the USA 1994 what ended up lifting Brazil. His creditable third place was received with open arms by the vast majority of fans of this sport, that vibrated and, in many cases, hallucinated with the feat of the national team from Europe.
The Sweden of the USA 94, a team that had to fight from the start
The selector Tommy Svensson was planted in U.S with the aim of getting as far as possible in the competition. However, I knew the mission was not going to be easy, especially because from the group stage the thing painted, as they say, very 'dodgy'.
Sweden had to fight to go to the next round with the almighty Brazil, the combative Russia Y Cameroon, a powerful rival who in the previous edition reached the quarterfinals.
The road started with a creditable draw to two against the Africans, that served as a prelude to the brand new victory for 3-1 versus Russia.
But nevertheless, those 4 points did not serve the yellows to seal the pass to the second round, so the shock to the 'green amarela', who had already won his two games, it would be decisive. Finally, the Swedish team offered their best version and scored a 1-1 draw against Brazil that allowed him to keep moving forward.
Brazil again, but this time it couldn't be
Sweden whole I was euphoric, It was not for less. His selection continued in the world, to the point of being planted in the semifinals thanks to eliminating Saudi Arabia (3-1) Y Romania (2-2; Y 4-5 on penalties).
But fate wanted it to come again Brazil, and this time the South Americans did not fail and took the victory by a tight 0-1, thanks to a bit of Romario lack of 10 minutes to conclusion.
No one could blame anything on Sweden, a team that had left everything, who went very far and competed at an extraordinary level.
It's more, in the fight for third and fourth place he dispatched Belgium on the fast track: 4-0.
With that encounter, the Swedes put an end to one of the most beautiful adventures in their history, which was very close to resembling the feat achieved in 1958, where they finished runners-up World after also falling with Brazil. They were one of the revelations of the tournament together with la Bulgaria de Stoichkov and company.