Stoichkov's Bulgaria that touched glory in the World Cup 1994
Bulgaria achieved qualification for the World US 1994 at the last minute of the discount. The goal Kostadinov in Paris left out, no more no less, than to Cantona's France, Deschamps, Desailly Fr. Ginola. Precisely, the latter, He was pointed out for losing the last ball that led to the lethal against Bulgarian that ended in a goal.
Thus, Bulgaria was presented in the United States without any kind of complex. Directed by Dimitar Penev, that team was very special. A group of warriors who went to the front to fight like brothers, bare chested, to open grave, without caring about the rival in front of them.
CHRIST STOICHK'S BOTA DE ORO
Thus they were leaving on the road to teams as powerful as Argentina (she was very touched after the positive of her big star, Diego Armando Maradona) or to Germany itself. It wouldn't be fair to highlight anyone above the rest, but there is no doubt that Hristo Stoichkov he was the great star of that team. Not in vain, the striker was top scorer of that World Cup (compared to oleg Salenko) with 6 goals. further, received the Golden Ball for the best footballer of the moment.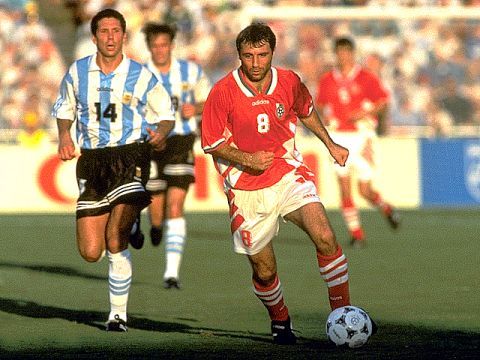 But Stoichkov I was not alone. Ivanov, Letchkov, Balakov or the one already mentioned above Kostadinov, they were a fearsome team. Their way of playing was very anarchic but that made them even more dangerous.
THE CONCENTRATION OF BULGARIA
As they tell, his concentration in the hotel was also quite atypical. The Bulgarians were the only ones who were accompanied by their women (and those who did not have it were looking for them), and there was no lack of alcohol and cigars. To many it may sound counterproductive, but possibly this was one of the keys to the success of Bulgaria.
Only the Italy of Roberto Baggio (that he had left Spain out in the famous match of the elbow of tassotti to Luis Enrique) could end the dream of the band Stoichkov in semifinals. The third and fourth place faced another of the revelations of the tournament, Brolin's Sweden and company, but that war no longer mattered to the Bulgarians who let themselves go and fell by a forceful 4-0.
Brazil achieved a new title winning the final in the penalty shootout against the Italians. But we will always remember the selection of Bulgaria, the one that taught us that, in football and in life, everything is possible.