"Not signed for Sevilla not for all the gold in the world"
It was one of the best players in the Real Betis in the early 80 and although his departure from the club was not the best because of a dispute with the directive verdiblanca, always it had clear that loyalty to their colors were above all.
Gabriel Humberto Calderon Betis came to set the season 1983-1984. Shortly before he had disputed World Cup Spain '82 with your selection, Argentina. curiously, during his time in football in his country did play two teams from the same city with a great rivalry, Racing Club and Independiente de Avellaneda.
With 23 years and a whole career ahead, this skillful attacker became undisputed in the alignments of the Real Betis with which he completed great performances. He shared team with great legends of the club as Esnaola, Gordillo, Cardeñosa or self Poli Rincón with him that he was a magnificent attacking duo. Between the two scored 34 goals (17 each) In the season 1986-1987 it was the best of the Argentine with the verdiblanca zamarra.
That's when the relationship broke down between Calderon and club. The player demanded more money to continue in the team and Directive, chaired by Gerardo Martínez Retamero, He did not give. The footballer had offers from the Atletico Madrid but he preferred a change of scenery and a move to Paris Saint Germain with whom he played three seasons.
FAITHFUL TO THE Verdiblanca
But nevertheless, The news came when Argentine, and in Paris, made a statement about an attempt by signing the Sevilla FC. Specific, President Luis Cuervas, personally she phoned Calderon in December 1987 to try to bring it back to Seville recently almost reached France. His answer made the heart of the whole beticismo was won forever: "I am very well in Paris, only return to Sevilla to play for Betis as long as it was not Retamero. Not signed for Sevilla not for all the gold in the world".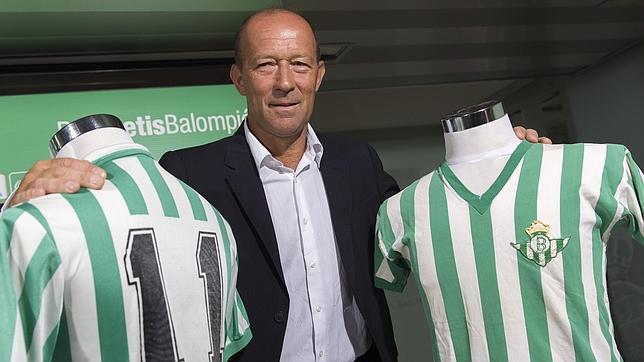 Calderon He hung up his boots after passing through clubs like Sion and Lausanne of the Swiss league and the French Caen. He played two world (1982 Y 1990) and he had the opportunity to return to the Real Betis, this time as coach, In the season 2013-2014 to try to save the team from relegation to the Second Division, something he could not get.