The amazing reason why Barca rule out the signing of Viktor Onopko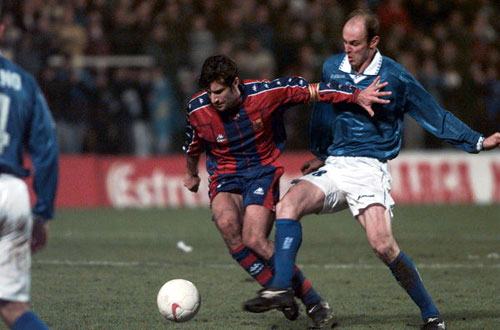 viktor Onopko It is one of the best players who have gone through the Real Oviedo. Ukrainian footballer, with Russian nationality, carbayón came to set in 1995 after stressing the Shaktar Donetsk and especially in the Spartak Moscow.
Onopko could play in the Barça
Precisely in an eliminator European Cup which pitted the Russian side and the FC Barcelona, Johan Cruyff He fell in love with the game that he could play center lanky perfectly in center field. It was a perfect player for the gear 'Dream Team', except for one thing.
according to account Manuel Thief, journalist Canal Sur, on a visit to the Real Oviedo al Camp Nou Spaniard then president Eugenio Prieto asked counsel Cruyff and his stuff manager on Onopko. The response Tonny Bruins It was rotunda: "It is the best center in Europe". But nevertheless, the maximum-Oviedo president, with the fly behind the ear, answered: "So… Why do not you ficháis?" This is where intervened Johan: "You have seen it? With that pint of encofrador could not play at Barca".
In this way, Eugenio Prieto He addressed the signing of viktor Onopko some troubles. The Atletico Madrid of Jesus Gil It was a tough competitor. The dispute was such that the two leaders clashed hard to the point that the ovetense president attended a match between the two teams Vicente Calderón but he did with the visiting fans and not in the box seat.
Oviedo pharmacies
Finally viktor Onopko He came to Real Oviedo Y, as we said at the beginning of the article, It was optimal performance. It is one of the most beloved players the fans carbayona. More of 250 in our league games spread over 8 seasons (7 in Oviedo and the last in the Vallecano Ray). further, It was 109 times by Russia and other 4 with the CEI.
But nevertheless, his first campaign in our country was not easy. His move soon closed, as we mentioned above, so he could only play 19 parties in the 1995-1996. One of the anecdotes of his early days in Asturias (as account) He was visiting several pharmacies in the area. A look at the viktor Onopko They had told him that Spain was little more than a country underdeveloped and it was more than likely have lack of medicines. logically, the player would soon realize that this was nothing more than a hoax.