Lubo Penev the day and Paco Roig messed punched in Mestalla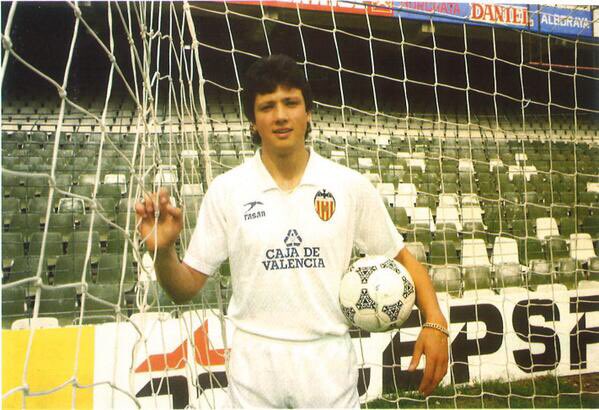 For everyone knows that the character of Lubo Penev It was and is quite strong and temperamental. If we join the former president of Valencia, Paco Roig, It was also aúpa we find a most complicated relationship.
They agreed on the Valencia CF. The Bulgarian striker joined the club of Mestalla this season 1989-1990 and from the beginning it became idol of the fans based on goals. During 6 bells Lubo Penev It was one of the top scorers of the team yet Pedja Mijatovic arrival and especially the Paco Roig, linked to serious illness, They relegated to a background Penev. It was then that the relationship between the two, leader and footballer, It was complicated and he went to Atletico Madrid.
Things could not be better to go Penev him in his first and only season as rojiblanco got the double (League and Cup) and was the top scorer with 22 goals between both competitions.
Penev LUBO VS PACO ROIG
Precisely in the second leg of that season 1995-1996 played in Mestalla between the marimorena colchoneros valencianistas and plucked. After the meeting President Paco Roig Y Lubo Penev they met and started insulting each other. The thing got out of hand and they came to blows. The worse off, like is logic, It was the top che president who left with a bloody nose and a black eye but also the Bulgarian had injuries on his face.
It looks like, Penev He blamed the president who wanted to rescind the contract with the Valencia when it was discovered that he suffered a cancer from which he recovered. Meanwhile, Paco Roig He said that the player agreed to the stage with the intention of provoking the fight. Anyway, the situation was lamentable.
COMPOS AND CELTIC
The race continued and continued striker scoring goals in the Spanish League. Of the Athletic He passed the mythical Compostela. In Saint Lazarus He spent two seasons in the top flight being the top scorer again with 22 Y 16 points respectively.
But nevertheless, the 'Compos' could not maintain the category and Bulgarian packed his bags again. His last club in Spain was the Celta Vigo In the season 1998-1999 Y… Guess what? exact, It was again the top scorer of his team with 18 goals.
Penev he left Spain with a baggage of 350 disputed official parties and 156 goals scored, what makes him one of the best scorers of the decade of the 90 in Spanish League. Of course, He also played with Bulgaria with which he played 66 encounters and was present in the European Championship 1996 and the World 1998.