Romario's punch Simeone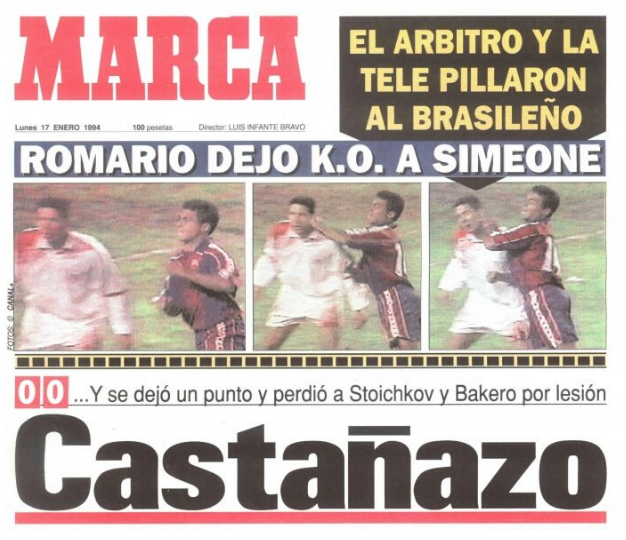 The Romario punch Simeone was one of the most striking images of the season 1993-1994 in Spanish League. The Brazilian landed a left hook that knocked out Argentine left. Obviously, The FC Barcelona striker was sent off and received a sanction 4 matches.
He is visiting the set culé Ramon Sanchez Pizjuan to be measured at the Sevilla FC a 16 of January of 1994. Barca arrived euphoric after foist one 'manita' Real Madrid (with hat trick Romario included) a day before. But nevertheless, To everyone's surprise, Johan Cruyff he left the Brazilian start on the bench.
"After dialing 3 Madrid goals is good for you can not go to your head"
Own Hristo Stoichkov, one of the stars of that Dream Team he went to the Dutch coach in these terms as told years later in an interview with Mundo Deportivo: "How do you leave on the bench? Get him home with me, we put 2 and then we change goals". But Johan had it very clear: "After dialing 3 Madrid goals is good for you can not go to your head. In the second part it out pissed off and scores two goals".
Things did not go according to plans Cruyff. Scoreless decided to give input to the crack that after a few minutes was the protagonist but his goals. The Romario punch He was captured by the arbiter of the match and television cameras. Of course, the action was on the cover of every newspaper sports to the next day and forward, as we said at the beginning, He was banned for 4 meetings.
"Simeone gave me. He insulted my mother and said I had blood cockroach"
Romario He went to Brazil with permission of the club a few days to clear the mind. On his return, like is logic, He was asked by this action: "Simeone gave me. He insulted my mother and said I was not human blood but cockroach. Is Argentine, everyboby says the same".
Cruyff It was a little further in his attack on the Cholo and said that she wanted to get dressed short to confront him. Of course, the Argentinian, He did not mince words: "I do not like people crying reporters in front of the cameras. Romario would have to ask if you paid me not the fact of having been an alternate. He was probably so hot".
The season ended in the best way for Barça who won the title of champion with a spectacular Romario who was top scorer with 30 goals. Meanwhile, Sevilla Simeone He finished in the sixth position, by then, It did not give access to European competition dispute.