Mariano Angoy, Goalkeeper Barca football kicker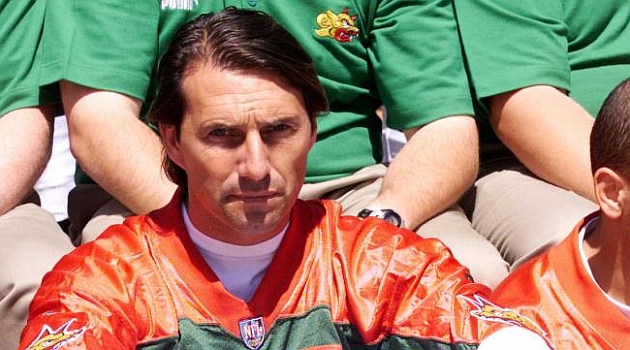 Mariano Angoy You can say that he has played in two very different sports but they carry in their name the word football.
This Aragonese goalkeeper born in Alagón became part during several seasons of bright template FC Barcelona of the early 90, the 'Dream Team' trained by Johan Cruyff. In fact, Angoy he married Chantal, daughter of legendary coach, becoming his son.
But most of his career as a substitute blaugrana passed and only played nine games at first (to which add another three in the top flight when it went through the CD Logrones at the beginning of his career). This path ended in 1996, and then he opened another path, in another football, the one created in the country of the stars and stripes flag, which he uses an oval ball instead of a spherical, in football (the 'football' they say in U.S as opposed to 'soccer', as there called the known as the 'beautiful game').
Reference competition in football, la NFL, for a few years created a league in Europe which served to foguear players who could then make the jump. Among its equipment there was one of Barcelona, the Dragons, and there was a stop Angoy.
From his experience as a goalkeeper, Aragon could put into practice the skills of goal kicks for one of the most specialized positions of this type, of 'kicker' or kicker. As the name suggests, its function was to kick the ball to score the score with extra points after a 'touchdown' or transformations 'field goals'.
Mariano Angoy could have ended up in the NFL
And here I was more athletic fortune. Angoy He was on discipline Dragons since 1996 until 2003, They won the competition in 1997 and were runners-up in 1999 Y 2001. In fact Aragon has finished as the second top scorer NFL Europe with 329 points (I just was overtaken by the English Rob Hart with 361).
But perhaps one of the highlights was when thanks to his performance came close to signing in 1999 for the Denver Broncos, top team at the time in NFL who won 1998 Y 1999. But finally Angoy He did not decide to make the leap to not let the projects he had in Barcelona.