The worst signings in the history of the club (of the 90 onwards)
Although the most powerful clubs are the ones who tend to sign the best players, the truth is that having much money does not guarantee success. As proof of this we will analyze worst signings in the history of the club. We will focus on some of the most nefarious additions set culé since the early 90 onwards, as it was then, when they began to handle larger amounts of money.
ESCAICH
It was one of the first signings came out 'frog' to FC Barcelona in the 90. After having a decent role in teams like Espanyol and Real Sporting de Gijón, Xavi Escaich He landed at the Camp Nou to replace the lead Julio Salinas. Just disputed 3 O 4 I dress parties Barca and the end of his first and only season as FC Barcelona signed for Albacete.
Amunike
Impossible us out of this list Nigeria. Amunike He stressed his country in the World 1994 and since then object of desire of the Barcelona. Finally, African footballer arrived at Camp Nou in the winter market 1996. Injuries and a combination of circumstances led to its passage by the Catalan side were a total failure.
BOGARDE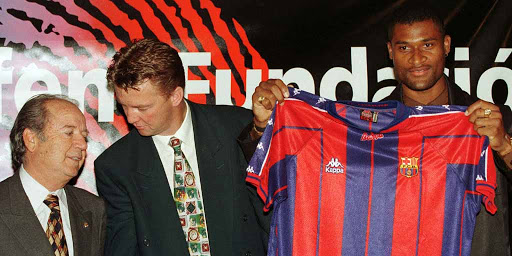 The arrival of Louis van Gaal Barca led to the landing of several Dutch players to the club. evidently, not everyone had the level to wear the blaugrana shirt. A clear example is Winston Bogarde. The defense had the honor of playing in clubs such as Ajax high level, Barcelona, Milan o Chelsea. Only the first he had a prominent role.
CHRISTANVAL
The thing is crying out to heaven and move as the price goes up transfers. By Christanval Barca paid 18 million to the Monaco. The defense was a real fiasco that had no impact to the extent that, after leaving the Nou Camp, he retired with just 29 years.
ROCHEMBACK
Another 'skids' era Gaspart. The Brazilian joined Barcelona and from the beginning he saw that there was level. Ran a lot but meaningless and also starred in more than a play in which he spent braking with misplaced tickets. He was gradually losing minutes off the bench or the stand were instead.
Chygrynskiy
Special mention in this list worst signings of the club deserves Dmitro Chigrinskiy. The Ukrainian defense came to Barcelona for the amazing amount of 30 million euros backed by Pep Guardiola. The tragedy of the matter is that it was just a year later returned to his home club, the Shakhtar Donetsk in half, that is to say, 15 'kilos'.
The list could continue and that, Unfortunately for fans culés, There are many bad signings of the club in recent decades. Keirrison Y Henrique, who they arrived in a 'pack' which cost 30 million and virtually no debuted with the Barca shirt. Douglas, which he ended on loan at Real Sporting. These are just some examples.