The best French footballers in history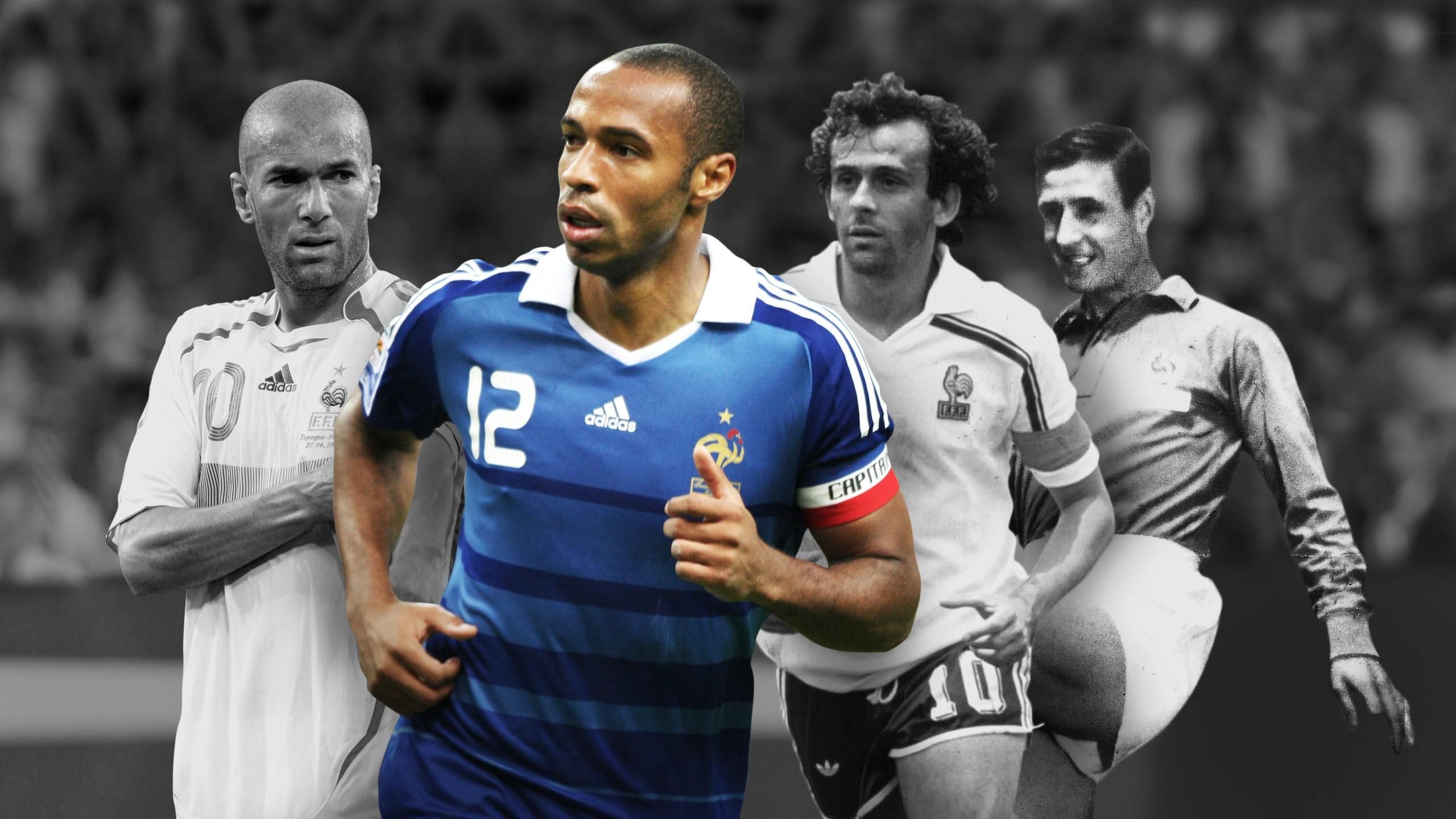 In this article we are going to collect some of the best French footballers in history. A listing, as usual, complicated and subjective. As usually happens, the list is very long so it will be impossible not to leave out great players who, possibly, deserve a place among the elect.
RAYMOND KOPA
One of the first great stars of French football. Raymond Kopa it was bronze ball twice (1956, 1957), golden ball in 1958 and silver ball in 1959. He wore the Angers jersey, Stade de Reims and Real Madrid. 6 leagues and 3 European Cups are some of their most important titles. Considered the third best French footballer in history according to the magazine France Football.
JUST FONTAINE
Contemporary of Kopa. Just Fontaine has the honor of being the top scorer in a single World Cup. I note 13 goals in sweden 1958. Superb striker who retired with an average of almost one goal per game. He played in the US Marocaine, Niza y Stade de Reims.
DIDIER DESCHAMPS
One of the best midfielders that France has given. World Champion both as a player (1998) coaching (2018). He also captained 'Blues' in the European Championship 2000 what the Gauls won. Elegance, character, order and great individual technique. At club level he won 15 titles among which stand out 5 leagues and 2 European Cups (Olympique de Marseille and Juventus).
FABIEN BARTHEZ
Considered the best French goalkeeper in history. Barthez he won absolutely everything with the national team (World 1998 and Eurocopa de 2000), and at the club level where he wore shirts as important as the Olympique de Marseille, Mónaco o Manchester United.
LAURENT BLANC
In a list of the best French footballers we can't forget the defenders. Laurent Blanc He was one of the leaders of the team that doubled between 1998 Y 2000. Slim and elegant, with good ball output. He played in big clubs like Barcelona, Marsella, Inter or Manchester United among others.
LILIAN THURAM
Another defense that was key in the successes of that French team in the late twentieth century and early twenty-first. Thuram it was a real boar, a physical wonder. He played in big clubs like Parma, Barcelona or Juventus. One of the best French footballers, undoubtedly.
MARCEL DESAILLY
Although he was born in Ghana, Desailly he adopted French nationality as he emigrated very young to the country. An idol for the Bleu fans who also triumphed at the club level at Olympique de Marseille, AC Milan o Chelsea. Defensive court footballer (could act as a midfielder or central) but that also had arrival in the opposite area. Another physical wonder.
ERIC CANTONA
The fact that he didn't play much with the national team prevents him from being in this type of listings. But nevertheless, we couldn't leave a genius like Cantona out of this selection of the best French footballers. Quality in abundance, a very special character and a unique player. Absolute legend of Manchester United by Alex Ferguson.
THIERRY HENRY
On the podium of the three best French footballers appears the great Thierry Henry. A striker with a class and a tremendous talent that stood out in Monaco and became an Arsenal legend at the hands of Arsene Wenger. further, had the opportunity to wear the Barcelona shirt with which he won the Champions League. Definitely, one of the best in history.
Michel Platini
For many, the best French footballer in history with the permission of Zinedine Zidane. Great captain of the team that won the European Championship 1984 and absolute crack of Juventus. Golden Ball in three consecutive years (1983, 1984 Y 1985). One of the greatest of all time.
Zinedine Zidane
In eternal fight with Platini to be the best French soccer player ever. Elegance, quality, smell of goal… I had it all. World Champion 1998, the Europe and 2000 and collector of titles with teams such as Juventus or Real Madrid. Best player of the late 90 and early 2000. A true genius.
As we said at the beginning of the article, there are many names that remain in the inkwell. Jean-Pierre Papin, Patrick Vieira, David Ginola, Frank Ribery O Robert Pires are some that, surely, deserve to appear in this list. others like Antoine Griezmann and above all Mbappé they are called to enter the future.