Paolo Rossi and his hat-trick to Brazil at the Stade de Sarria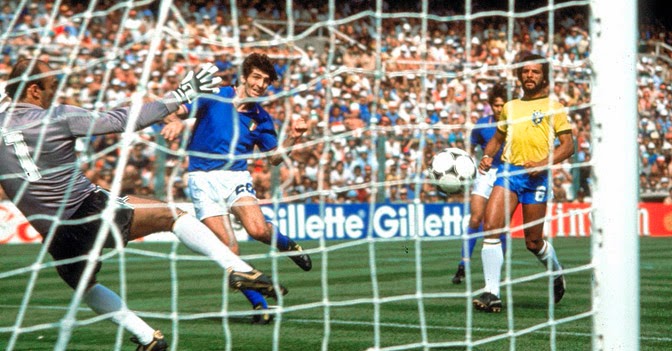 Spain '82 World Cup was not easy for the protagonist of our article today. Paolo Rossi He came very fair to the finals from the physical point of view but Italy coach, Enzo Bearzot, blindly trusted in him.
The Italian striker did not start well the tournament like the rest of his team. The selection blue signed three draws in the first three games which allowed him to qualify for the second phase but still too positive image. Criticism of Paolo Rossi by the Italian press they raged and qualified as "a ghost on the pitch".
But nevertheless, gradually the physical front of Tuscany was improving and already in the party that faced them Argentina, in what was the fourth match of the tournament, It was a key element to victory but failed to score any goal.
PAOLO ROSSI BOTA DE ORO
It was certainly in the fifth game against Brazil where Paolo Rossi He was uncovered achieving a hat-trick in the victory of Italy by 3-2 against mighty Brazil he had players like Socrates, Zico, Falcao Eder. The 'canarinhá, big favorite to take the title, He was eliminated in one of the best matches of World Cup history was played in the mythical Estadio Sarria.
Rossi He was unstoppable and got two more goals in the semifinal match against Poland. Italy achieved victory 2-0 and it was classified for final. Once again the Italians were low to a tournament and now had their options to lift the Cup against Germany, as it were.
Italy destroyed the Germans in the final by a resounding 3-1 with a new goal Paolo Rossi, which would marker. The striker became the top scorer of the World Cup with 6 goals and he gave reason to technical Enzo Bearzot I always trusted him. That same year he was elected Golden Ball.