Waldo y Wanderley, two brothers who triumphed at Valencia CF and Levante UD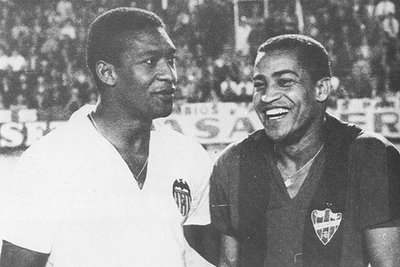 Years 60 They were quite positive for both clubs in the city of Valencia. In that decade, both sets lived an era of success and much of the blame had two strikers who came to the city to succeed: Waldo at Valencia and Levante Wanderley.
WALDO LEGEND Valencia CF
Waldo Machado Da Silva, the elder of the two brothers, triumphed in the Fluminense since 1954 a 1961. In the Brazilian team achieved nothing less than 319 goals in 403 games becoming the top scorer in the history of the club, record that still holds today. Especially in a friendly match played with 'Flu' in Mestalla managed to score two goals and set valencianista he undertook his move.
The fichado of Waldo could not be more successful. The carioca football belonged to the first valencianista template 9 seasons in which he played 297 matches and scored 160 goals becoming the second top scorer in the history che World behind. Valencia was the 'Pichichi' In the season 1966-1967 and got two Fairs Cups and one Cup of Spain.
WANDERLEY ACHIEVES THE RISE WITH LEVANTE
Meanwhile, the smallest of the Machado, Wanderley, He came to the Levant and was instrumental in the first ascent to First Division club granota In the season 1962-1963 scoring 11 goals in 14 games in just half a season.
Stage Wanderley as granota lasted 5 seasons, two in First Division, with 107 games played and 48 goals scored.
Both fought seasons 1963-1964 Y 1964-1965 in the top defending the jersey of the rival city. The Levante He won both matches in Vallejo and the Valencia the two played in Mestalla. Wanderley was able to score a goal in the first of the four meetings and Waldo did in the last.
curiously, both they ended up playing together. Specifically it was in the season 1970-1971 in the rows of the Hercules Alicante in Second Division. But nevertheless, neither he was at a good level as Waldo He was only able to score 1 goal all season and Wanderley nor it premiered. All Alicante ended in an eleventh discrete position that season.