The best Norwegian footballers in history
The Norwegian team never had an outstanding participation in any World Cup or Eurocup. The biggest achievement of the Nordic team was the bronze medal obtained in the Berlin Olympics in the year 1936. Even so, throughout history there were good Norwegian footballers that we collect in this article.
MORTEN GAMST PEDERSEN
Like most of the best Norwegian footballers, Pedersen excelled in the Premier League. His best time was lived at the Blackburn Rovers where he played for 9 years and he disputed almost 300 official matches.
ERIK THORSTVEDT
Possibly the best Norwegian goalkeeper in history. Once again we must highlight his career in the English league in which he defended the shirt of a historical like Tottenham Hotspur. With the 'spurs' He played a total of 175 meetings.
TORÉ SECOND FLOW
One of the biggest (literally) norwegian forwards. The team that shone the most was Chelsea, where he was an important footballer, very difficult to score due to his great size.. He also played in clubs like Scottish Rangers, Sunderland, Leeds, Siena… Of course, He was also international and scored one of the most important goals in Norwegian history.. It was against Brazil in the World 1998 that allowed his team to qualify for the round of 16.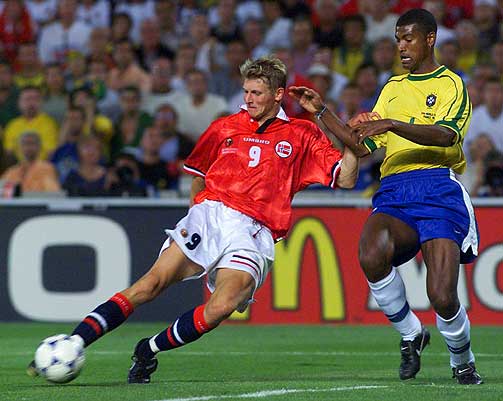 JORGEN JUVE
Possibly the first great Norwegian footballer in history. Jorgen Juve was the captain of that legendary team that won the bronze medal at the Berlin Olympics in 1936. He also played in the World Cup 1938.
JOHN CAREW
Another tall striker who defended the Norwegian elastic. The race of John Carew it was quite long. He played in teams like Valencia (where he possibly lived his best years), Rosenborg, Roma, Aston Villa, Besiktas, Olympique Lyon, West Ham… After hanging up his boots he began his career as a film actor.
JOHN ARNE RIISE
Riise could not miss this list of the best norwegian footballers history. The left-hander experienced his best time at Liverpool where he played 7 achieving seasons 7 Titles, among them, the Champions League of 2005. He also wore the Monaco jersey, Rome or Fulham among others.
OLE LOVES SUNFLOWERS
Possibly the best footballer Norway has given to date. 'The murderer with a child's face' was one of the great players in the Manchester United de Alex Fergurson. A shocking one on the bench who always scored important goals when he was needed most.
In the Red Devils he was 11 seasons where he won 6 Suspenders, 1 Champions (with his historic goal in the final against Bayern), 1 Intercontinental Cup, 2 FA Cup y 3 Community Shield. He authored 281 goals in total 525 games played throughout his career.
In the next years, other names of Norwegian footballers like Martin Odegaard O Erling Haaland are called to be important on the world stage. Possibly, both will end up making merits to be on this list.