The first European Cup Manchester United
Today we will discuss the first European Cup Manchester United, historic club where there, obtained in the season 1967-1968. curiously, that campaign were fulfilled 10 years of the tragedy of Munich that ended 8 players of the first team of United deceased.
The English club had achieved a complete reconstruction after the tragedy of the plane crash a decade earlier and Bobby Charlton, Dennis Law y George Best as leading figures tried to lift the most coveted trophy at club level in Europe.
One year before was the Celtic de Glasgow which won the title against all odds winning the final to Inter Milan of Helenio Herrera. Thus, the Scottish side was the first British club to lift the title capable of dethroning European champions Real Madrid who was the real ruler of the competition in the decade of 60.
It was this an issue with some new features. to get started, It was the first to incorporate the double value of the field away goals in case of tie, yes, This rule was not valid in overtime (something very logical that it should also apply today).
MANCHESTER UNITED VS REAL MADRID
The first European Cup Manchester United He was a key moment: the semifinal that pitted the 'Red Devils' y al Real Madrid. In the first leg in Old Trafford the English won a narrow victory by 1-0 with goal George Best.
The second leg was lived as an authentic early end. The Real Madrid he sought the comeback hard and came to have a 2-0 and a 3-1 in their favor in the second half. But nevertheless, two defensive errors put the 3-3 final that helped the United It is planted in the final against Benfica Portuguese.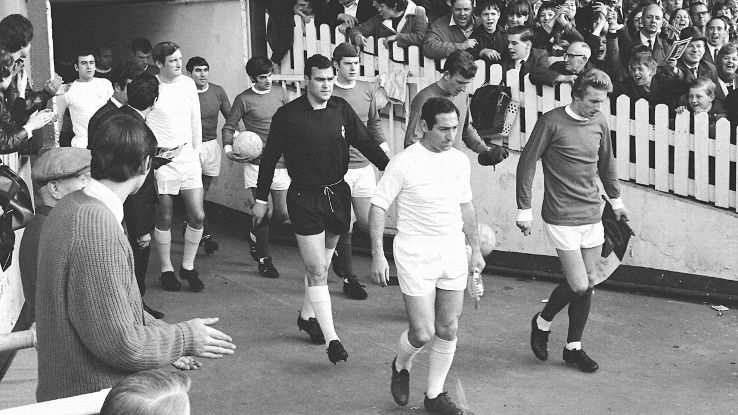 Far from what may seem seeing the final outcome of 4-1 favorable to the British in the great final in Wembley, The match was very even. In fact, The game ended with a tie. And in overtime, goals from Best, Kidd y Charlton (who had already scored a goal in the game) They gave the first European Cup to the team led by Matt Busby, the great architect of the reconstruction team. Meanwhile, the Benfica She began their particular curse in the final as we discussed in this other article.