5 big stars who played at Real Zaragoza and maybe not know
The Real Zaragoza It's one of the Historic League clubs Spanish. Throughout its history have passed through its ranks great figures of world football. Gerard Piqué, Ayala, Aimar, Morientes and David Villa are some of the big stars which belonged to the whole hand more recently, but nevertheless, Today let's take a look back to remember 5 big stars who wore the zaragocista elastic and may not remember.
José Luis Chilavert
An idol for the fans of Velez Sarsfield and Paraguay Selection. He was active in the Real Zaragoza since 1988 a 1991 He managed to score a goal. (Photo: This editions).
ANDREAS BREHME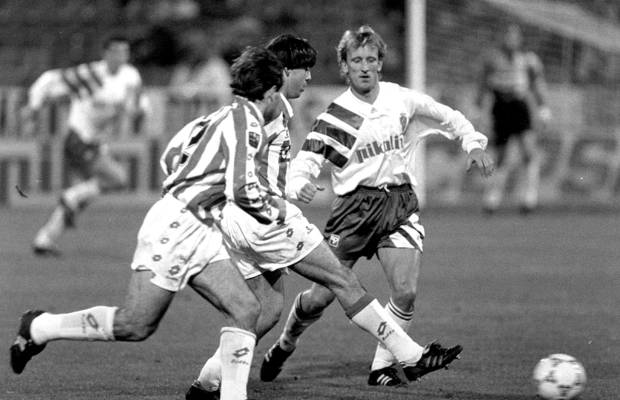 World champion with Germany 1990. After succeeding in teams like Bayern or Inter Milan, Andreas Brehme She had an affair in the Real Zaragoza In the season 1993-1994 (Photo: Herald).
FRANK RIJKAARD
After highlighting Ajax, Dutch crack (pictured with Narciso Julià) I went on loan to set maño in the 1987-1988 before joining and break at the legendary AC Milan of Arrigo Sacchi (Photo: Twitter Real Zaragoza).
Cafu
One of the best right-backs in history for many. Cafu He had a brief stint in the Real Zaragoza In the season 1994-1995 before triumphing in Rome and Milan plus twice crowned world champion with Brazil (Photo: Vavel.com).
Jorge Valdano
Another champion of the World, this time with Argentina in the year 1986. He arrived in Spain from the hand of the Deportivo Alavés that at that time militated in Second Division. He remained in Vitoria 4 seasons and good work allowed him to sign the Real Zaragoza before making the leap to the Real Madrid. Set in the Aragonese had a great performance during 5 seasons noted for his goalscoring facet, something that would demonstrate at the Santiago Bernabeu.