Top scorers in the history of Real Sociedad
The Real society it is a history of our football. The txuri urdin team has had great strikers in its ranks. In this article we will review the list of Top scorers in history of the club that, as you can see, includes illustrious names.
SATRÚSTEGUI (147 goals)
Jesus Maria Satrústegui was the great scorer of the best Royal Society in history. He developed his entire career at the Donostia club (13 seasons from 1973 a 1986) with whom he won 2 Suspenders, 1 Copa del Rey and Supercopa of Spain.
LÓPEZ UFARTE (114 goals)
Another member of that squad that conquered the two Leagues consecutively. Left-handed winger who is part of the club for his great performances and high quality per band. After 12 years in Real Sociedad he signed for Atlético de Madrid and from there he went to Real Betis.
KOVACEVIC (107 goals)
Arrived without making much noise. After swelling to score goals with the txuri urdin shirt he signed for Juventus and from there went to Lazio. But nevertheless, his time in Serie A was a failure, so he returned to Anoeta to continue recovering his best version. Together with Nihat he formed one of the best attacking couples of his time.
URALDE (92 goals)
He could not miss in this list of the top scorers of the Real Sociedad Uralde in addition to making goals with the people of Donostia during 8 seasons he also did it with Atlético de Madrid, Athletic Club and Deportivo de la Coruña. But nevertheless, only won titles with the San Sebastián club.
Jose Maria BAKERO (90 goals)
He debuted with the Real Sociedad shirt with 17 years. One of the midfielders with the greatest arrival that Spanish football has given. I note 184 official goals at his two Spanish clubs (Real Sociedad and FC Barcelona). He was also present in the two Leagues won by the people of Donostia in the 80.
KODRO (81 goals)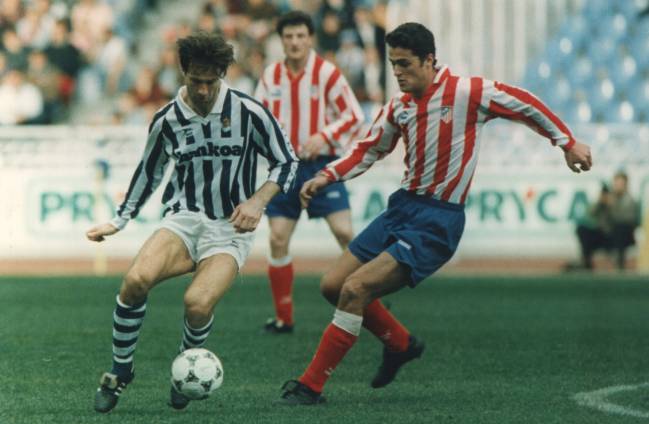 Bosnian meho Kodro 'broke it' at Real Sociedad where he played for 4 seasons. His great goalscoring figures helped him to sign for FC Barcelona. He also played on CD Tenerife and Deportivo Alavés in the Spanish League. But nevertheless, his best years were in San Sebastián.
ZAMORA (76 goals)
Donostiarra club legend. He was the author of the historic goal against Real Sporting in El Molinon that the League gave to Real Sociedad. Developed his entire professional career at the club (15 seasons) And it is, Of course, one of the best players who has worn the elastic blue and white.
CARLOS CANDLE (73 goals)
After not curdling in teams like Salamanca or Celta, It was in Donosti where the Mexican surrendered to his best level until he became one of the great strikers in the League.. If he had not abandoned the realistic discipline, he could have reached the top of the classification of Real Sociedad top scorers.