meho Kodro, fourth top scorer in the history of the Royal Society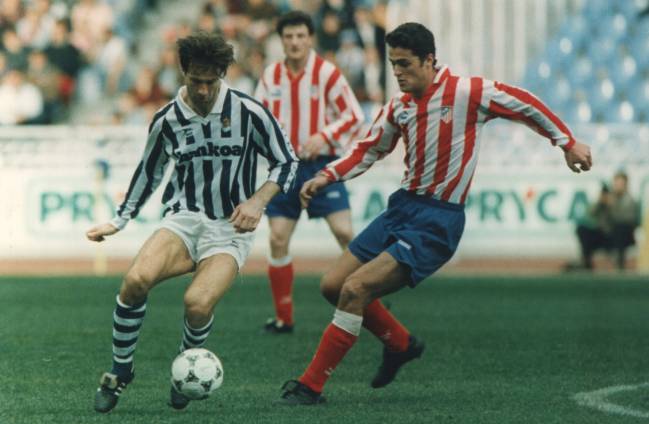 If you are asked for names of great strikers in the early 90 in Spain one of those who will quickly come to mind is meho Kodro. Bosnian League came to hand Real society In the season 91-92 from the Velez-Mostar where he stood out based on goals.
meho Kodro, one of the best strikers in the history of Real Sociedad
Its yield was almost immediate, and the first season marked donostiarra 13 many, the same figure repeated in the second season as txuri-urdin. But were the two following which uncovered him as one of the best strikers in the championship scoring 27 Y 28 points respectively both in the domestic competition and Copa del Rey. So much so that he is one of The best strikers in the history of Real Sociedad.
With 28 years and the best form of his career, He came the great opportunity. The FC Barcelona, in particular their coach Johan Cruyff, He rolled his eyes to replace nothing more and nothing less than Romario who had left the Camp Nou. The challenge was more demanding and this time Kodro did not live up to expectations. Yet their numbers with the blaugrana shirt were not bad as it was able to score 15 goals that season (9 League, 3 Cup and 3 in UEFA Cup).
Transfer from Barcelona to Tenerife and later to Alavés
But such a large and demanding club like Barça which she had also left its main backer (Johan Cruyff) He deeded to Kodro al CD Tenerife, with which there was a great relationship. Not in vain, Barca won two leagues in the last day with the invaluable help of tinerfeño set.
On the island Kodro nor again the player who dazzled in the Real society even though, as it could not be otherwise, He followed by goals. In his first season with the shirt of Tenerife marked 8 and second 14 (adding all competitions). It was the third most negative campaign as the team dropped to second division and Bosnian, with barely minutes, He went scoreless.
His latest venture in Spain was in Vitoria where he defended the t-shirt Deportivo Alavés for a season (1999-2000). Kodro framework 5 goals and it was important in a team that failed to qualify to compete in the UEFA Cup next season in which the set of Mendizorroza make history (and without the Bosnian template).
Balkan front hung up his boots after playing more than 300 matches official (between League, Cup and UEFA Cup) having scored 123 goals. Definitely, one of the great attackers of the early 90 in Spanish football.