The first kit that gave Joaquín Sánchez… It was not the Betis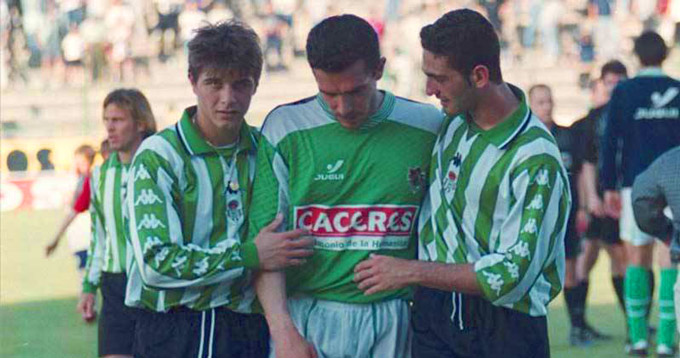 When one hears about Joaquín Sánchez he immediately comes to mind a club above all, the Real Betis. It is true that the Spanish international has also played for other clubs like Valencia (where was 5 seasons), Málaga and the Fiorentina but it is clear that the club of his childhood and his personal and professional life is none other than verdiblanco.
T-SHIRT REAL COMPANY
However the end keeps a most curious story of his childhood. When I was just a kid Joaquín Sánchez he asked his father a football kit to go out and play with their friends wearing shirt, shorts and socks as their idols. So far so normal. But this is where the story takes an unexpected turn as the father of the future crack and Legend Real Betis He appeared at home with a full kit of… the Real society.
Joaquin the story told in the program The day after as follows: "I think my father bought discard or because there was no other. To me I gave me the same and got just as happy. Since then I keep very fond of that team, Always she called my attention. further, I remember that even the shirt with loose coat and had to sew".
After a long career have not been given circumstances so that Joaquin T-dressed set donostiarra. But nevertheless, it can say it was the first one dressed and with which he made his first turns in the streets of Seville in its infancy.
When this story was published the Royal Society was quick to post a message in their social networks to congratulate the father of Joaquín for its good taste and offer the player two kits for her two daughters to continue this beautiful tradition. Definitely, a nice and curious history.