The 5 most beautiful and successful history shirts World and European Championships
As long as such a list is made, many will not agree. True, it is very difficult to choose the most beautiful t-shirts of teams in the history of World Cups or Eurocups, but considering the beauty and success of the selections that sported, we are left with this selection that we have made.
The most beautiful jerseys in the history of the World Cups and Eurocups
1- HOLLAND, EUROCOPA 1988
Definitely, one of the most beautiful in history for its innovative design, color, why not say, because she wore one of the best generations of European footballers who have gathered on a field. Van Basten, Gullit, moneybags… the Dutch national team that captivated everyone in Euro 1988 the prize to the most beautiful jersey of a national team that, also, He was champion.
2- GERMANY, WORLD 1990
There is a great dispute shirt deserves to know what to take first place among the prettiest of Holland 1988 and of Germany that same year also brought the Germans in the World Italy 1990. Again, besides being one of the most beautiful history t, He served for success. Germany was able to win the title in the World 1990 with the precious elastic.
3- FRANCE, EUROCOPA 1984
Following our top 5, we find the magnificent shirt of the French team that took the Euro in 1984. Quite innovative in design for the era and the Spanish fans had to suffer shirt as it was with that France beat Spain in the final. Precisely the World France 1998, Les Bleus made based on this legendary shirt design.
4- ARGENTINA, WORLD 1986
Beautiful in its simplicity and true to the colors of Argentina Albiceleste selection, We choose the shirt of the selection in the World 1986. curiously, It is the only shirt from this list that is not of the Adidas brand, something strange has since been the brand that has dressed Argentina for many years. This time the brand is responsible for the design The Coq Sportif. mythical shirt where there, which he was dressed Maradona in the final to beat Argentine England with the stellar performance of '10' which achieved, possibly, the best goal in World Cup history.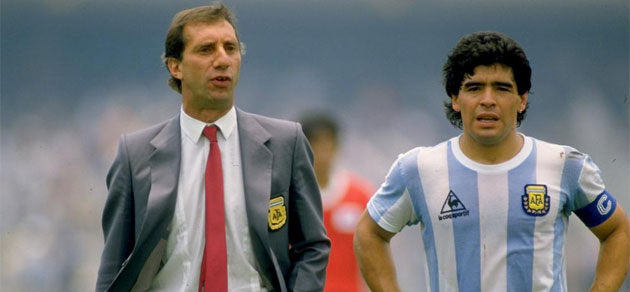 5- SPAIN, WORLD 1994
We can not leave out of this Top 5 the elastic worn Spain in World 1994 held in United States. T-shirt, Adidas again, It caused a furor among the Spanish fans and was one of the best-selling in history. Modern and innovative, It was with the team led by Javier Clemente He was very close to reaching the semifinals but Italy and misfortune, they passed on their way. Definitely, one of the most beautiful T-shirts 90.
This zamarra marked a whole generation and is where the brand was inspired to develop that wore the Spanish team in World Russia.