Season 1983-1984: When Castilla y Athletic Bilbao 'amounted' First Division
The football world is full of stories of curious. One of them is that carried out the Castile and the Bilbao Athletic, subsidiaries Real Madrid and Athletic Club respectively, in the season 1983-1984 when both militated in Second Division.
In this campaign coincided several subsidiaries in the silver division of Spanish football. In addition to Castilla y Athletic Bilbao, Atlètic Barcelona and Atletico Madrileño (second teams Barca and Atletico Madrid) completed poker affiliates should rub elbows with historical and Hercules, Real Oviedo, Celta Vigo, Deportivo Coruna and Las Palmas among others.
A few years before Castile He had made history by reaching the final of the Copa del Rey that faced, precisely, al Real Madrid. The first merengue team defeated its subsidiary by a strong 6-1 And from here the subsidiaries no longer disputed this competition. But nevertheless, If they could do, as is the case today, in second, B Second or Third as one.
CASTILLA SECOND DIVISION CHAMPION
Thus, that season 1983-1984 that originated Castilla y Athletic Bilbao consiguieran something historic. Meringues and lions be achieved first and second respectively tied to 50 points (at that time they amounted victories 2 points). In this way, Had it been any other team had won promotion to the First Division.
This was the only time in the history of the Spanish League a subsidiary has proclaimed champion of Second and also the only one in which two have occupied the top two positions. logically, none could climb so Hercules, Racing de Santander and Elche (third, fourth and fifth position respectively) They won promotion to the top flight.
That Castile (led by a legend like Amancio) He had a batch of players who would make history in the following years in the first team and was known as 'La Quinta del Vulture'. Some members of that staff were Ochotorena, Sanchis, Míchel, Butragueño, Martin Vazquez, Pardeza… all with age between 18 and the 22 years.
Meanwhile, the Bilbao Athletic (trained by the mythical Iribar) He had players like goalkeeper Iru, Brothers Salinas (Patxi and Julio, which he finished as top scorer in the competition with 23 goals ahead of Butragueño What did 21), Andrinúa, Pizo Gómez... etc.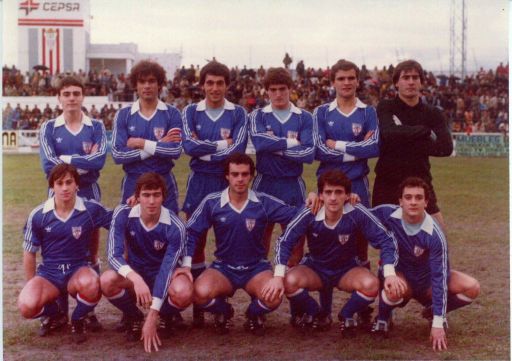 The paper of Atlétic Barcelona and Atletico Madrileño It was also worth. Barca finished in seventh place while Atletico suffered more but avoided relegation by finishing in the fourteenth place.