Jordi Cruyff, the weight of an illustrious name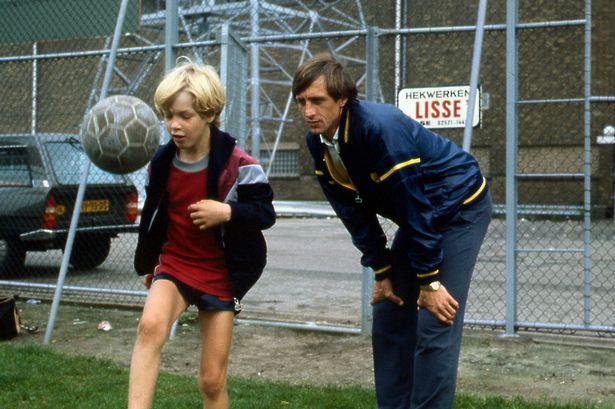 Jordi Cruyff It was the third son of Johan (the only male). When you inherit a surname such an illustrious is obvious that the pressure to follow in the footsteps of one of the best players in history ends weigh on your shoulders.
Coinciding with the arrival of Johan the bench of the first team FC Barcelona, George He entered in the lower grades of Barça with only 14 years.
Gradually he was burning stages to the first team. His debut could not be better as it was a hat trick author of a preseason game stage that the Catalans played in Groningen.
Obviously, the illusion of the fans shot as they saw in the young man a possible solution to the problems that crossed the team, in the twilight of Dream Team. But nevertheless, even though The son of Johan' He did not bad, True, it was not his father, much less.
And if that was not enough, a serious knee injury kept him away from the pitch six months. Once recovered, his father had been dismissed by Josep Lluis Nuñez, also she accused him of having been responsible for numerous figures that leave the template to make room for his son.
Jordi Cruyff TO MANCHESTER
Amid this situation, like is logic, Jordi Cruyff decided to leave the FC Barcelona. The Manchester United of Ferguson She made him an offer and the idea immediately seduced.
Before, had the opportunity to contest the Euro with the Holland of Guus Hiddink who fielded as a starter in the 4 parties that selection 'orange' he played in England.
But Manchester Nor it was the perfect place for the young Cruyff who barely he had opportunities to demonstrate their quality. After 4 seasons (with assignment to Celtic therebetween including) in which it was more less, He touched pack again.
FINALIST OF UEFA CUP WITH Alaves
It was then, with 26 year old, when Jordi Cruyff surely he was aware of the reality and decided to sign for a team where he could feel important. The Deportivo Alavés of Mané It was their new destination and in Vitoria could enjoy their best football.
In the Babazorro club he became a permanent fixture and was part of that mythical template that touched the glory with his fingertips quarreling the final of the UEFA Cup against Liverpool.
After three seasons, coinciding with the decline of albiazul set to Second Division, George He she left. Espanyol, Metalurg D. at Valetta were his last team before hanging up his boots.
Surely the great pressure he was under the player did not let him perform in the best way in the early years of his career. Johan Cruyff there was only one, George It was not his father, nor it was needed. Surely when he understood that and matured, He could break free of that pressure and enjoy football.