The first tee with advertising football history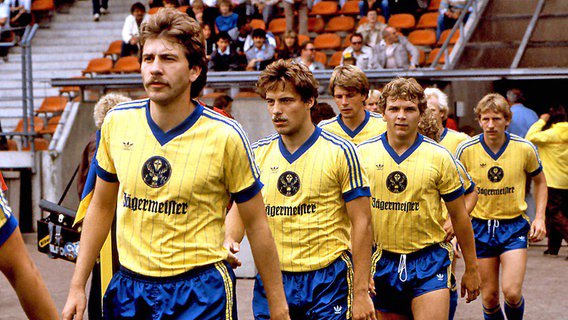 Today is assumed that only soccer teams with logos from different companies on their shirts or pants. This is one of the most important sources of income and it is very rare that a team confronts his matches with his T shirt 'Virgin'. But nevertheless, this is now so common, there was a few years ago and soccer teams played with logos shirts free.
EL EINTRACHT BRUNSWICK Y JÄGERMEISTER
It was in 1973 when it all began. In that year, the Eintracht Braunschweig, one of the founding clubs Bundesliga, He was experiencing economic difficulties. Businessman Günter mast He had the bright idea of ​​incorporating the logo of a liquor in the team jersey and thus alleviate the financial problem that crossed the German team. Jaegermeister It was the chosen brand but found the refusal by the German Football Federation did not want to sully t-shirts clubs.
Günter mast He not surrendered and chose a drastic solution. The 'lions north' as the team was known by his shield lion, They change its emblem by a deer, symbol of liquor brand. It was not very popular, but effective. In this way, the Eintracht Braunschweig He sported since a large deer in his shirt and achieved the necessary liquidity to succeed.
From there other clubs like Hamburg, Duisburg O Eintracht Frankfurt de (all other liquor brands also) They were entering the marketing of their shirts.
THE FIRST TEE WITH ADVERTISING IN THE SPANISH LEAGUE
In Spain it took a few years to copy the idea. Here, predominated appliance brands such as Puzzle, which he appeared on T-Shirt Racing de Santander O Zanussi, which he was incorporated into the Real Madrid the early years 80. The set cntabro I was a pioneer in Spain again.
Some tried to resist and keep their pristine sheepskins, As the FC Barcelona and the Athletic Club de Bilbao, but they had to give up and for some years also give up their space to the highest bidder. In fact, is something quite common to present new kits every season, looking to generate new sales and, so, new revenue to the coffers of clubs. things modern football.